Description
The exploration of nature wall murals can take endless forms.
Because nature provides us with such a vast wealth of inspiring phenomena.
That gives us a lot of nature mural themes to work with!
And you can now see that murals based on nature can take numerous forms and serve many purposes.
Because "nature murals" are such an immense topic that encompasses so many designs.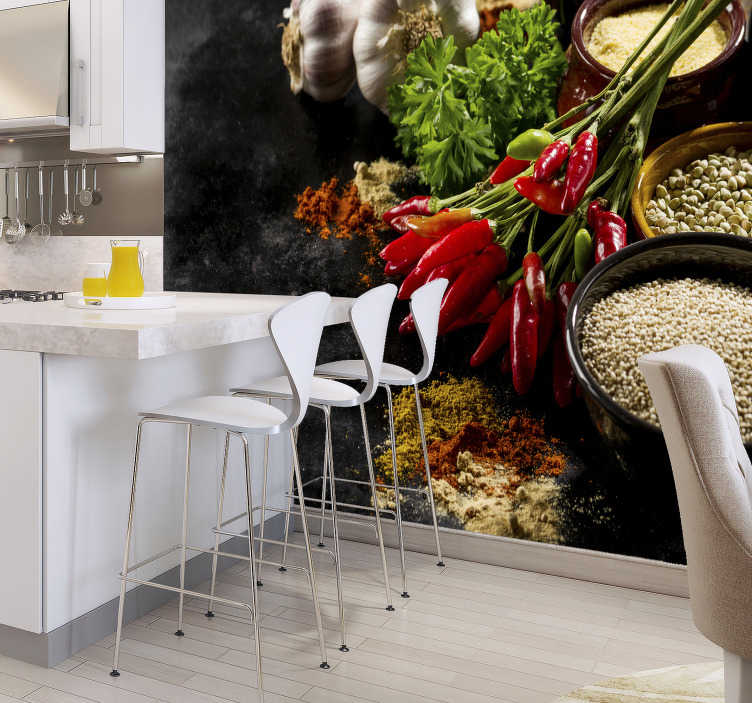 We can only provide a partial list of the various themes that may appear in nature-related murals:
flowers, botanical garden plants, forest trees, wild animals, plant and animal cells, or anatomy. It coul be bodily systems, conditional weather, particular geology, matter, energy, plant and animal fossils, any of the natural sciences. For example water, under the sea, wild fire, your environment, nature conservation, processes, evolution, animal birth, flora and fauna growth, aging, decay, change…
And of course, within each theme, there are further divisions, and on and on.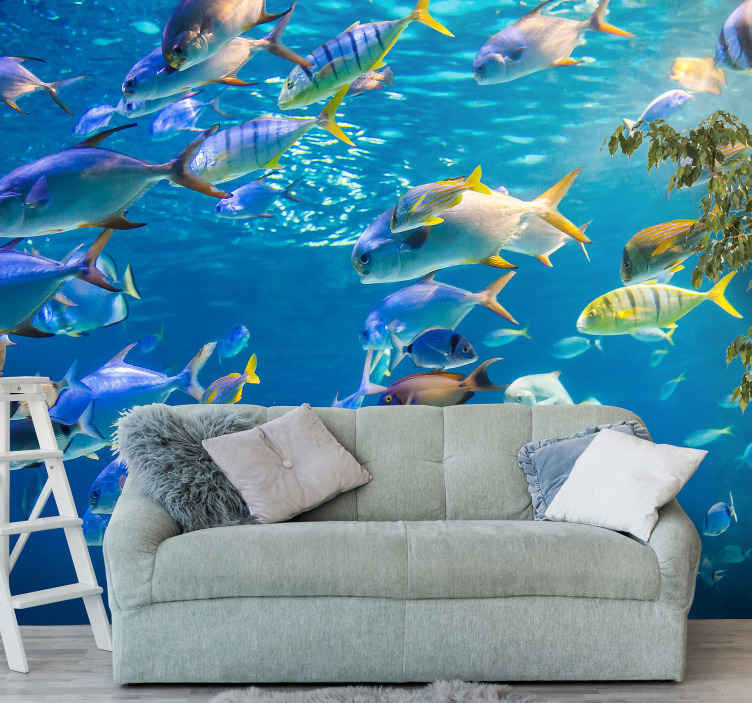 So if you want to create a mural based on the theme of "nature", you've got a whole planet full of ideas to work from!
 Ways you can use nature wall murals
Here are some ways that you can use nature wall murals for aesthetics, to create mood, in hospitals to aid in healing, in workplaces, in education, to promote tourism, and in many other ways:
Aesthetics
Nature wall murals can be used to add beauty and visual interest to any space.
They can be used to create a sense of calm and tranquility or to add a touch of luxury or sophistication.
Mood
Nature wall murals can be used to create a specific mood or atmosphere.
For example, a mural of a forest can create a sense of peace and serenity, while a mural of a cityscape can create a sense of energy and excitement.
Hospitals
Nature wall murals have been shown to have a positive impact on the healing process in hospitals.
They can help to reduce stress, anxiety, and pain, and they can also improve mood and overall well-being.
Workplaces
Nature wall murals can help to create a more relaxing and productive work environment.
They can also help to reduce stress and improve employee morale.
Education
Nature wall murals can be used to enhance the learning experience in schools and other educational institutions.
They can help to make learning more engaging and stimulating, and they can also help to promote environmental awareness.
Tourism
Nature wall murals can be used to promote tourism in a particular area. They can help to create a sense of place and to attract visitors to a destination.
In addition to these specific uses, nature wall murals can also be used in a variety of other ways, such as:
To add a touch of nature to an urban environment
Here are some examples of how you can use nature wall murals to add a touch of nature to urban interior decoration:
A mural of a forest can create a sense of peace and serenity in a living room. The green leaves and cool colors of the forest can help to calm the mind and relax the body.
A mural of a beach can bring the feeling of the ocean indoors. The crashing waves and blue skies can create a sense of calm and relaxation, perfect for a bedroom or bathroom.
A mural of a cityscape can add a touch of urban sophistication to a home. The skyscrapers and busy streets can create a sense of excitement and energy, perfect for a home office or living room.
A mural of a botanical garden can bring the beauty of nature indoors. The flowers, plants, and trees can create a sense of peace and tranquility, perfect for a dining room or entryway.
A mural of a wildlife scene can help to connect people with nature. The animals and plants can help to educate and inspire, perfect for a child's room or a nature center.
Ultimately, the best way to use a nature wall mural is to choose a mural that reflects your personal style and the desired effect you want to achieve.
No matter how you use it, a nature wall mural is a great way to add beauty, interest, and peace to any space.
Custom-made nature murals 
There is nothing better than custom-made Nature Wall Murals to decorate any room in your home.
In this category of nature murals, you will find scenery murals such as 3D forest wallpaper for walls, mountains, and sandstone pillars.
Mind you, all our murals are removable and reusable.
And that means they are a real investment as they are highly durable and you can move house with them.
With
endless designs,
you can fill the walls of your home with life and color in a unique way.
And this is the way to go for a comfortable home where spending hours is not boring and monotonous.
Now with Wallpaper Kenya nature murals, you can decorate your house the way you want without having to make a large financial outlay.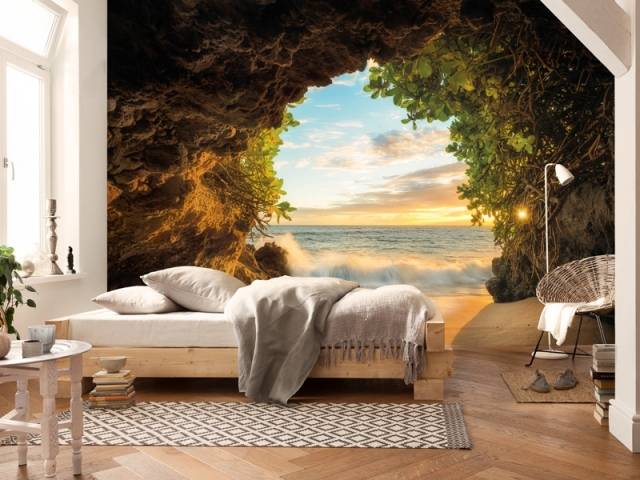 Because with our illustrations you will have your wall as you want it without having to reform your house.
And you will save the time and money that this entails.
Do not hesitate to wallpaper your house with one of our nature mural wallpapers.
It is a great option and you will give depth to your walls and fill them with personality.
You and your visitors will spend a lot of time admiring your wall decoration.
I guarantee your mural will be envied by everyone who enters your house.
Effects of decorating with nature murals
Nature wall murals have a way of creating positive disruptions by pulling us out of our interests, ideas, and systems.
And into something that is often humbling. This is also what happens when you go into the forest or walk beside the beach.
But it's also what happens when you get to work in a garden.
In other words, enjoying picturesque landscapes gives you emotional and psychological health.

The images of flora and fauna in the interior wall decoration have a long history, traditions, and customs.
Because the natural world is closely intertwined with human civilization, animalistic and floral ornaments are not uncommon in ethnic styles.
And you will agree with me, that it's not nuclear science, there is a relationship between nature, health, and emotional well-being.
The beautiful photo nature wall murals create fascinating three-dimensional illusions that inspire imagination and captivate the organic being of nature.
Nature murals use palettes with almost all shades of green.
As well as skillfully embedded high-quality "natural" photographs or illustrations – fruits, vegetables, etc. But is not necessary to color all walls in green tones.
The walls look much fresher just due to the use of pastel colors, illustrations, and collages.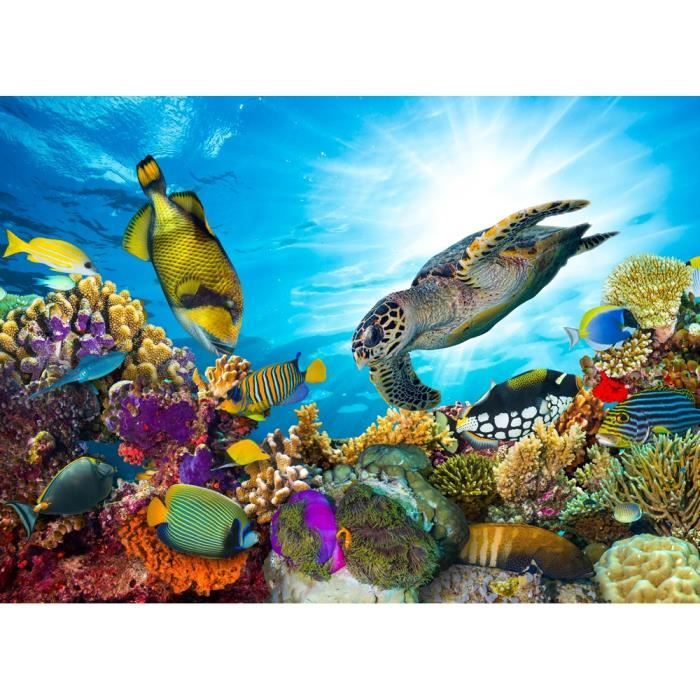 Landscape photo murals
Stunning landscape photo nature wall murals are timeless classics that have received a new life.
Thanks to modern photo printing technologies. Natural landscape scenes soothe and relax.
Select an image from the library or give us your nature landscaper photos.
And Wallpaper Kenya will make beautiful photo wallpaper murals within 1-2 days.
Popular photo wallpaper murals with pretty landscapes of nature
The natural landscapes are rich color palettes, represented by a variety of warm and cold shades.
Fresh spring greens and cool streams of a waterfall, colorful wildflowers and sparkling snow of mountain peaks, a mesmerizing sunset, and autumn leaves are common images of nature.
Choose photo wallpaper, focusing on the color palette and your interior design style:
Where to place
Your choice of the natural landscape mural is determined by the purpose of the room and the tasks that are supposed to be solved with their help.
Murals with a perspective expand the space only if the image is not overlapped by pieces of furniture – it is better to place large-format murals on an open wall to the side of the sofa or opposite the seating area.
Panoramic landscape paintings can be used to decorate the wall, which adjoins the sofa or headboard.
A landscape mural, occupying only part of the wall, can be turned into a beautiful picture of nature using wooden slats or moldings.
Printing of seamless custom nature wall murals
Seamless wallpaper mural- what is it?
This is a wallpaper that is glued in one piece along the wall and therefore has no joints. Unlike classic or regular wallpaper, which is glued in narrow vertical stripes.
For printing, you choose an image from our Shutterstock, where a large selection of paintings and photographs are presented.
At your request, we will correct it and carry out the order in just 24 hours!
If you know how to search, but we can assist, Shutterstock offers you a large number of nature images that you can use to decorate your home.
The sunset over the Sea, natural landscapes, wildlife, skies, and all. You will find all this on Shutterstock.
Also, our designers will be happy to help you choose exactly what you are looking for.
Murals can create an amazing atmosphere in any interior, and bring comfort and a magical mood there.
Seamless wallpaper has a roll width of up to 3 meters and a length of up to 60 meters. This allows you to paste over the room, unwinding the roll along the perimeter, horizontally.
The main difference is that the seamless roll does not need to be cut.
It is glued with a single sheet, horizontally along the wall. It is only necessary to smooth out the folds by gradually unwinding the roll, which is more convenient to do.
On the other hand, you do not need to deal with combining the patterns on the panels, cutting along the seam, and other difficult moments that do not always turn out perfectly well.
3D nature wallpaper for the living room
Custom-made nature wall murals and nature ordinary wallpaper make the best 3D wallpaper for living rooms.
The above-pictured wallpaper mural is from ordinary standard-size preprinted wallpaper.
These are the kinds of wallpaper you can walk into any wallpaper store buy and take home. They come in a universal standard size roll of half a meter by 10 meters for KS 1500 per roll supply only. Or KS 2000 per roll all-inclusive, supply and installation.
And you will find the standard size or regular wallpaper in a variety of designs. There are different kinds of natural stone, wood, and florals. You will also find other botanical designs, leaves, and even animals.
But all regular wallpaper has repeat patterns. For instance, if you look at the above two examples you will see similar images on the same mural.
You will see similar stone patterns on the same stone wallpaper mural.
And you will see repeat patterns of wood planks on the same wooden wallpaper.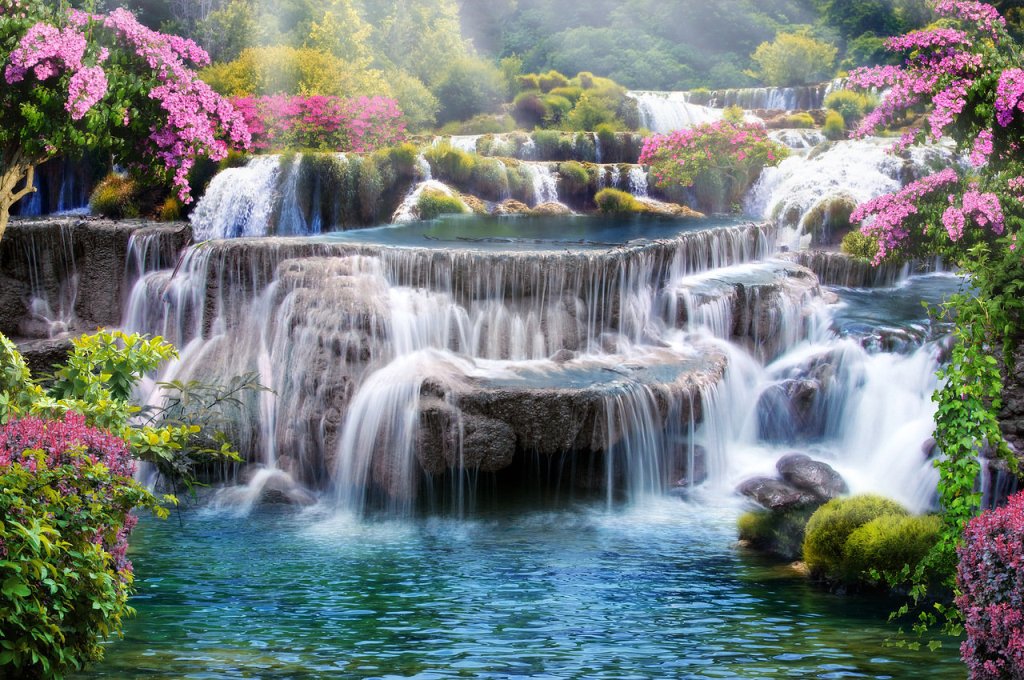 But there are no repeat patterns in custom-made nature murals.
Therefore custom-made murals make the best nature murals.
Because, in true nature, there are no repeat patterns.
Just like there are no two trees that are the same in appearance in any one or more forests.
Installation of custom-made murals
You will be surprised to learn that it is easier to install custom-made nature wall murals than ordinary wallpaper.
It is not difficult at all! and you can do it yourself.
Because the mural comes in one piece the size of your wall.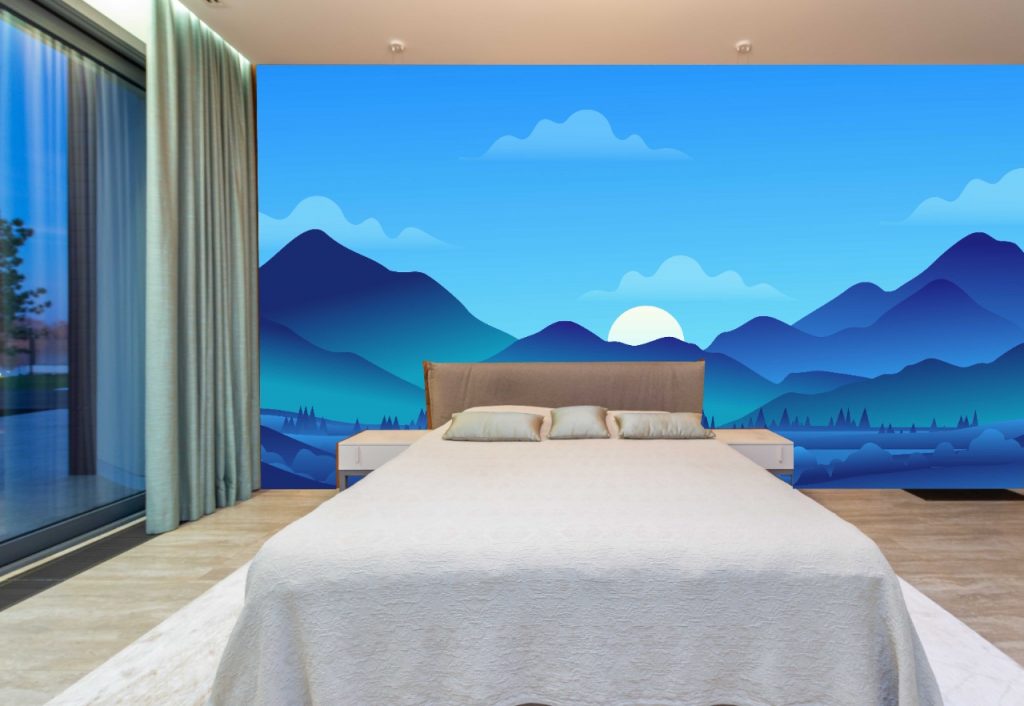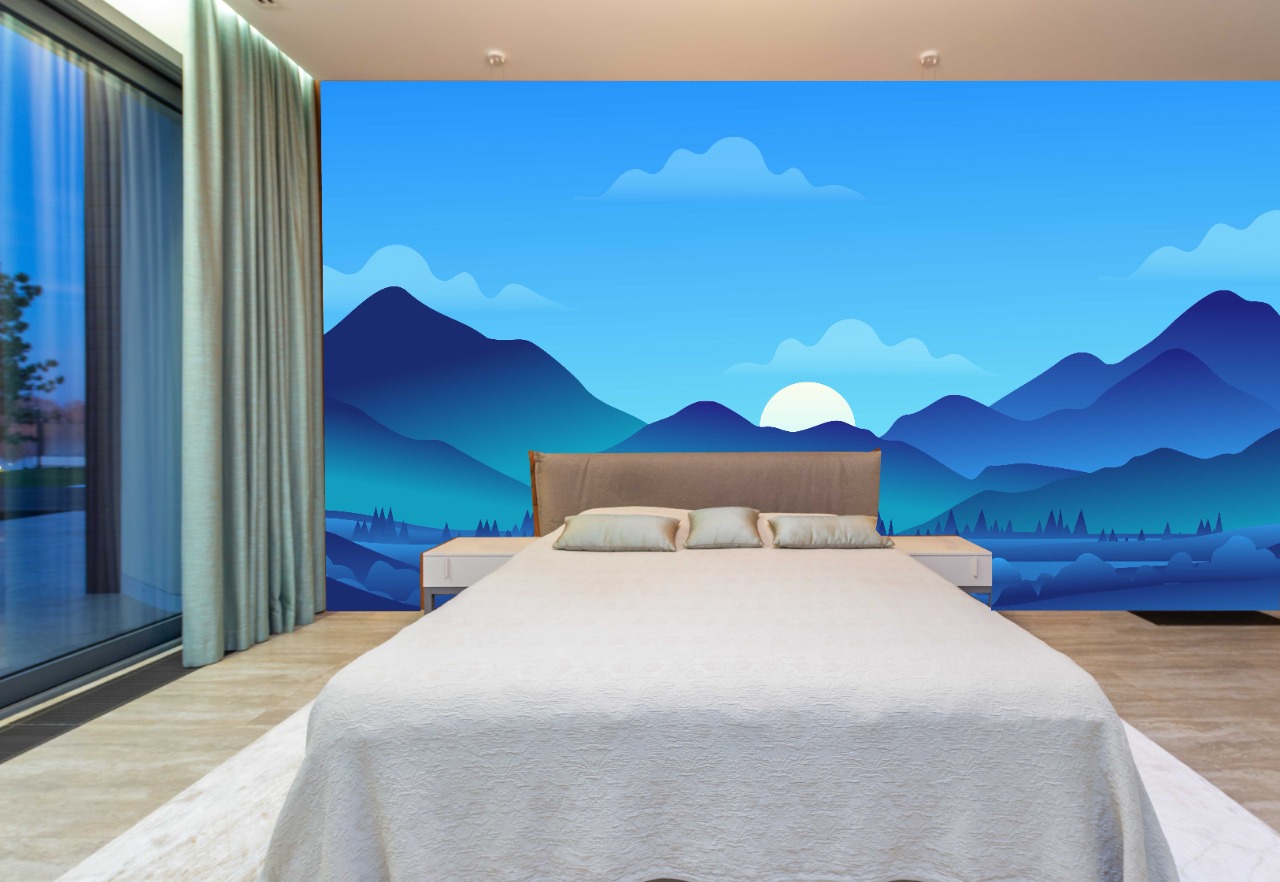 And you only need to paste the wall thoroughly and then place the mural. Done. It is as easy as that.
But if you are in Nairobi, and you like, we can install it for you for free. You only pay for the mural but not for installation.
But if you are going to do it yourself, you will have instructions as to how to mix the wallpaper adhesive with the natural decorative murals.
So that you can apply it without any doubts.
And just by following the procedure, you will leave a fantastic wall that you will enjoy for as long as you want.