Description
What is the need for a nursery mural?
A nursery school should have colorful walls that encourage fun and creativity.
Are you starting daycare or want to give your existing one a new look?
If so, learn how to incorporate color, art, and education into your daycare's interior and exterior walls.
But why should you do so, you may ask?
This is to take advantage of the walls in your nursery to turn it into a playful space.
Murals on all the walls in the nursery are some of the tools you can rely on to create a learning environment.
And how do you do this, you wonder!
Visit Wallpaper Kenya for lots of ideas. Here are some of these ideas:
If you are on a budget and you are artistic, you can
paint a mural
on the wall.
At Wallpaper Kenya, you will find many ideal nursery mural ideas for a themed nursery school.
Positive and negative effects of a cartoon nursery mural
A nursery mural, depending on the design, can have a number of positive or negative effects on your children.
You may fear decorating with certain cartoon nursery murals.
Take for example Spiderman cartoon wall murals.
Our cartoon murals for nurseries collection has Spiderman wallpaper murals for instance.
The Disney character has moral teachings. He wasn't born a superhero. Spiderman acquired his powers suddenly as a young adult, through a quirk of fate.
That is very similar to the way most people become leaders. The moral teaching here is that some core principles make Spiderman a force for good.
In the real world are pretty much the same principles that can make leaders a force for good in an organization.
It is good to know the meaning of the cartoon wall murals you are hanging in your child's room, isn't it?
Violence in cartoons (as in many television programs) is as frequent as it is worrisome.
Excessive child time on TV may teach the child to solve certain problems the way superheroes act. And those fantastic performances that the child assimilates as superpowers.
The identification with the protagonists of these cartoon wallpaper murals carries a mimicry.
It impels them to act under the slogan of "what my hero can do I can also do".
Positive effects
Encourage creativity and imagination
A nursery mural can provide a blank canvas for children to use their imaginations and create their own stories and worlds. This can help to foster their creativity and imagination, which are essential skills for learning and development.
Promote learning
Nursery murals can be used to teach children about different concepts, such as colors, shapes, animals, and numbers. They can also be used to tell stories or introduce children to different cultures.
Stimulate the senses
Nursery murals can be used to stimulate children's senses of sight, touch, and hearing. The colors, textures, and patterns of the murals can be very appealing to children and help them to learn about their environment.
Create a calming and relaxing environment
Nursery murals can help to create a calming and relaxing environment for children. The soft colors and soothing images can help children to feel relaxed and comfortable.
Reduce stress and anxiety
Nursery murals can help to reduce stress and anxiety in children. The calming and relaxing environment can help children to feel more at ease and less stressed.
Negative effects
Be too stimulating
If the nursery mural is too stimulating, it can actually be overwhelming for children. This can lead to feelings of anxiety or stress.
Be inappropriate for the child's age or development level
Nursery murals should be appropriate for the child's age and development level. If the murals are too complex or abstract, they may not be appropriate for young children.
Be used to promote stereotypes or negative messages
Nursery murals should not be used to promote stereotypes or negative messages. For example, murals that depict only certain races or genders in certain roles can be harmful to children.
Overall, nursery murals can have a positive impact on children's development if they are chosen carefully and used appropriately. It is important to consider the child's age, development level, and interests when selecting nursery murals. It is also important to avoid murals that are too stimulating, inappropriate, or promote stereotypes or negative messages.
How to choose nursery murals
Here are some tips for choosing a nursery mural
Choose a nursery mural that is colorful and engaging, but not too stimulating.
Choose murals that are appropriate for the child's age and development level.
Choose murals that depict a variety of people, places, and things.
Avoid murals that promote stereotypes or negative messages.
If you are unsure about what kind of nursery murals to choose, it is always best to consult with a child development specialist or an art therapist.
The colors you choose for your nursery mural can have a big impact on the overall look and feel of the room.
A mural is a great way to add a unique touch to the space. And the right colors can help create a calming and inviting atmosphere.
Here are some tips for choosing the right colors for your nursery mural.
Start by considering the overall theme of the nursery. If you're going for a classic look, muted tones like pastels and neutrals are a great choice.
But if you're looking for something more modern, brighter colors like blues, greens, and yellows can be used to create a vibrant atmosphere.
Then think about the size of the room. If the nursery is small, you may want to stick to lighter colors to make the space appear larger.
And if the room is larger, you can use bolder colors to create a more dramatic effect.
You must also consider the lighting in the room. And know that natural light can make certain colors appear brighter.  While artificial light can make them look duller.
And if you're unsure, it's best to test out a few colors in the space before making a final decision.
Think also about the age of the child. If the nursery is for a newborn, you may want to stick to softer colors that are easier on the eyes.
And if the child is older, you can use brighter colors to create a more stimulating environment.
Choosing the theme
Start by deciding on a theme for your mural. Consider the interests of your child, such as animals, nature, or a favorite book or movie.
Choose a color palette that will complement the theme. Consider colors that will create a calming atmosphere, such as pastels or muted tones.
Sketch out your design on paper before you begin painting. This will help you visualize the finished product and make any necessary adjustments.
Use stencils or templates to create shapes and patterns. This will help you create a more professional-looking mural.
Incorporate personal elements into the mural. Consider adding your child's name, a favorite quote, or a special symbol.
Use a variety of painting techniques to create texture and depth. Consider sponging, stippling, or dry brushing.
Add a few finishing touches to the mural. Consider adding glitter, rhinestones, or other embellishments to make the mural truly unique.
Seal the mural with a protective coating. This will help preserve the mural and keep it looking its best for years to come
Children's murals in pastel color tones
Another reason why these custom-made murals for babies are so successful is their colors. The vast majority of them have pastel tones.
Whether blues, turquoise, greens, pinks, beige, grey, or yellows, all of them have very subtle watercolors.
And that helps to create a very pleasant environment for children and also for newborn babies.
And all the aspects dealt with, for example, if we comment on the design they are created vectorially and drawn directly on a graphic tablet.
A fact that only the great professionals of the drawing manage to accomplish with success.
And this is the main reason why these drawings have a high sharpness, for being vectoral still being a mural of great format.
It is seen extraordinarily clearly.
Another fundamental aspect of its quality is that it is made of silk fabric printed with the best digital printing machinery.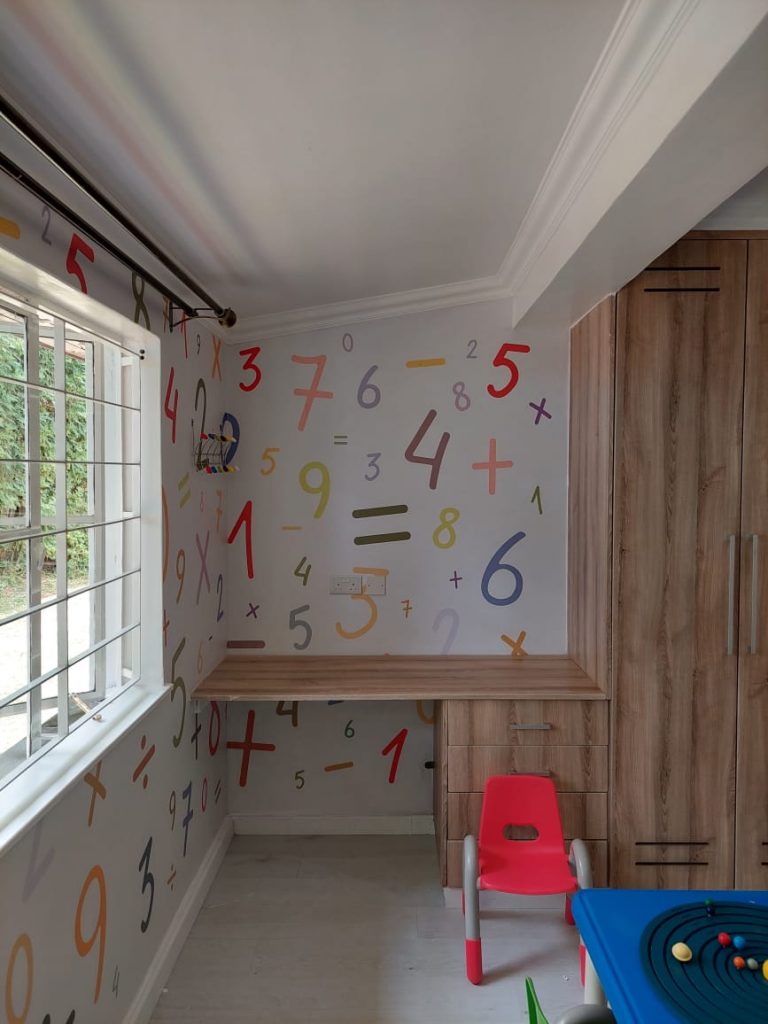 This type of mural has the great advantage that only glue is placed on the wall.
This way, the installation will be quick and clean and can be carried out by anyone with a minimum of experience.
Because silk fabric does not expand and does not contract, it has a high resistance over time.
Jungle-style children's room
Self-adhesive peel and stick anti-collision child-friendly 3D foam
The newest innovation of nursery murals is the self-adhesive, waterproof, soundproof, anti-collision 3D foam wall panels.
Home nursery murals
If your child has a favorite topic, use it to customize the nursery mural at home. We have lots of great ideas for your kid's room.
For the pirate junkies, our "Cartoon High Seas" murals will have every kid screaming "Arrrr!"
Bring a safari to any wall with our adorable "Animal Party" wallpaper, which is perfect for those who love all animals, including giraffes, elephants, and monkeys.
If you're looking for the perfect wallpaper for a kid's room, our adorable "Wild Willows" mural has already brought lots of smiles and memories to so many kids' rooms.
With its colorful wildlife backdrop, this mural will make your children's room the perfect place to start a new life.
Once you decide on a theme for your baby's room, it's time to start decorating.
The challenge comes when you face a big wall in the nursery and want a way to break it up.
Instead of covering a large wall with paint of a basic, solid color, create a mural to break up the monotony of the wall.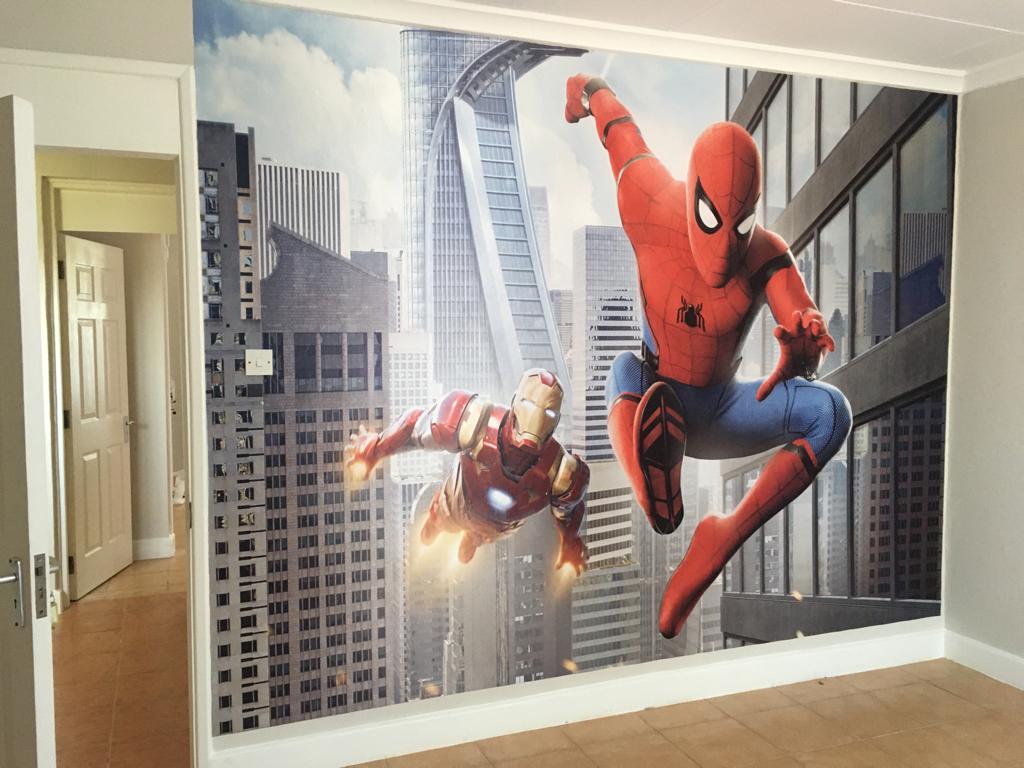 The finished mural helps with the decoration of the room and colors, shapes, and photos help stimulate a baby's mind.
Even without artistic skills, create your mural to match the theme of the room.
Hand-painted nursery mural
A nursery mural can be hand-painted, graffiti painting, a photo mural, or wallpaper or vinyl.
Therefore, If you want to decorate your nursery school or children's room, there are several options to hire a muralist.
Murals can be created in the interiors of nursery classrooms, corridors, halls, or offices. Also on the outside walls of buildings, facades, as well as school vehicles. 
Countless types of paints can be used to paint interior murals.
Water-based paints, acrylic paints, and aerosols are quick-drying paints, easy to clean, withstand humidity, and perfect for creating.
Specific acrylic paints for interior murals cost around KS 6000 per liter, while spray paints cost around KS 4000 per liter. But this is nothing compared to the muralist charges. 
Now, if you want an outdoor mural or you are going to paint a drawing on a façade, the type of paint varies.
Being outdoors it has to put up with and suffer certain things that interior paint does not have to put up with.
Inclement weather, wear, pollution, sunlight, high humidity, or extreme temperature changes.
That is why exterior mural paints must be polyurethane enamels, vinyl paints, epoxy resins, acrylic paint, or special sprays. Such a hand-painted mural will cost you around KS 20000 on average.
But the same size of digitally printed on silk fabric (hand painted) nursery mural would cost you around KS 30,000
Nursery Mural Ideas
Some nursery mural ideas include a garden for a fairy or butterfly room or an underwater scene for an ocean room.
You can also choose a simple design, such as paw prints across the wall for a puppy room.
Or stars and moons for the sun, moon, and stars room.
Murals in nursery schools should fit into the concept of your kindergarten as much as possible.
For example, if your nursery has a specialized direction, like teaching foreign languages, ​ depicts various characters from popular fairy tales of a native country.
Have you noticed, that kindergartens for girls only, or boys only have become popular again? Naturally, the specifics of murals in such kindergartens will also differ.
The interior of each room in kindergarten, as a rule, also helps children learn about the world: bright pictures in the playroom will differ from calm ones in the bedroom.
And images of funny animals at desks will be appropriate on the walls in the study room.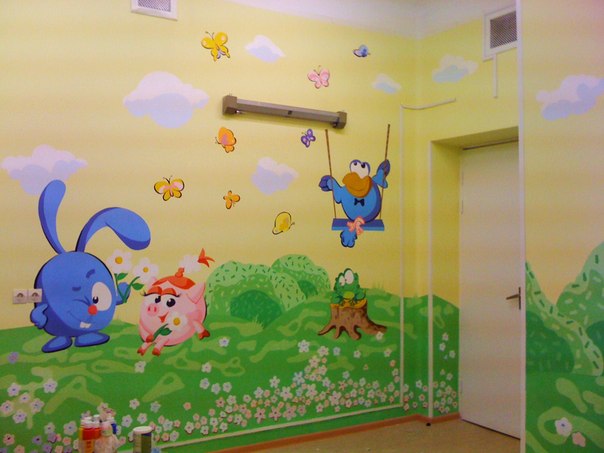 Help your kids achieve more by pushing them towards learning in a fun form of entertainment. Prepare them for an earlier future.
Give your child a head start with these kids' educational murals. Inspire your kids' imaginations with Attractive themes in the following nursery murals:
Alphabet Letters

Numbers 1-10, or 1-100
Animals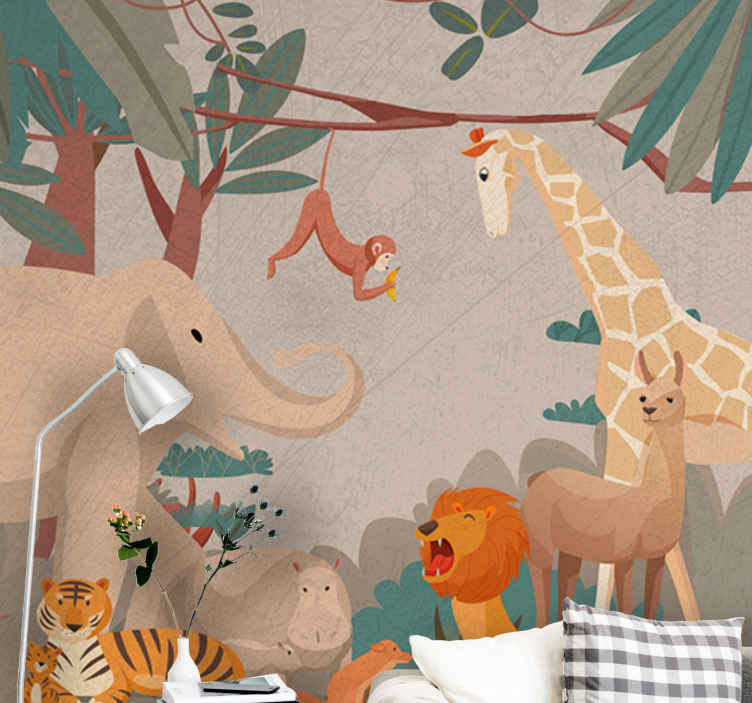 Under the sea children's room wallpaper mural
Outer space 3D murals
Church Nursery Mural Ideas
mountain nursery mural
jungle nursery mural
Peter Rabbit wall mural
safari nursery mural
woodland nursery mural
forest mural for nursery
tree mural nursery
sun mural for nursery
Cloud mural for nursery
Star Wars Nursery mural
elephant wall mural nursery
Hot air balloon nursery mural
Farm murals for nursery