Description
You can now order a Peacock Wall Mural from Wallpaper Kenya and have it installed tomorrow.
And it is quite easy for you to order and have not just any
peacock image
but just the right one for you.
Because we have over 2500 peacock mural designs for you to choose from.
Click here
to see some of them.
You know decorating walls with Peacocks is not a recent trend. 
Their iridescent feathers and decadent beauty have always inspired decorative imitations both abstract and literal wall art.
Peacocks have been a favorite wall ornamental motif for ages past. 
This year, the modern wallpaper mural has been confirmed star of interior decoration.
It is Perfect for you to add a touch of peacock mural to the living room or bedroom.
And you can now use wallpaper murals in more unusual locations, such as the bathroom or kitchen.
Contrary to the past, we currently tend to cover a single feature wall or part of a wall with a wallpaper mural.
As well as the back of alcoves and niches, cabinet panels and doors.
3d peacock wallpaper mural
With modern technology, you can now reproduce a 3d peacock wall mural on silk cloth wallpaper.
You will find the peacock mural a beautiful bird image that shows its beautiful shapes and colors, representing Paradise. 
Peacock tail feathers are pigmented brown, but their microscopic structure causes them to reflect blue, turquoise, and green light as well, and they are often pleasing.
These feathers symbolize immortality, triumph over death, longevity, capacity for regeneration, and transmutation.
And therefore your peacock wall mural will be symbolism of love, prosperity, beauty, and inner peace.
For Christians, the pattern of their tails has acquired a meaning of omniscience, the all-seeing God. The design of a peacock's tail represents the stars and the universe.
While its six-pointed star-like crown symbolizes its magnitude and power. It is a symbol of eternity, immortality, and wholeness.
In India: Considered a sacred animal, even gaining sacred temples in the country. It is commonly found in the gardens of palaces and other places considered sacred.
3d peacock wall painting
If you're not ready for the bold color combination of a realistic peacock wall mural, opt for the monochrome peacock feather wall painting. 
The symbolism of the mural
The peacock wall mural is a perfect ornament of a legendary animal that men have adorned with many symbols over time.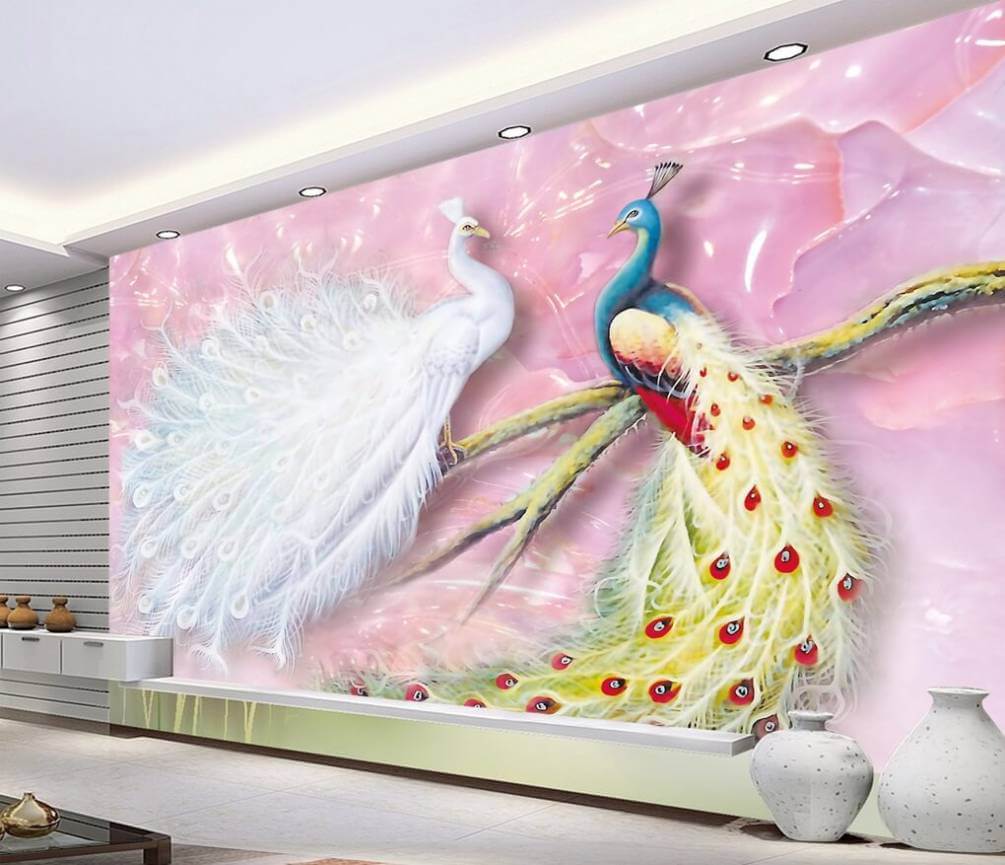 You will find that in China, the peacock is a sign of peace, prosperity, and beauty, which is expressed by its colorful plumage.
And in India, 4000 years ago, the peacock was already a symbol of immortality and fertility. While in the West, the fall and regrowth of its feathers were interpreted as a symbol of renewal and resurrection.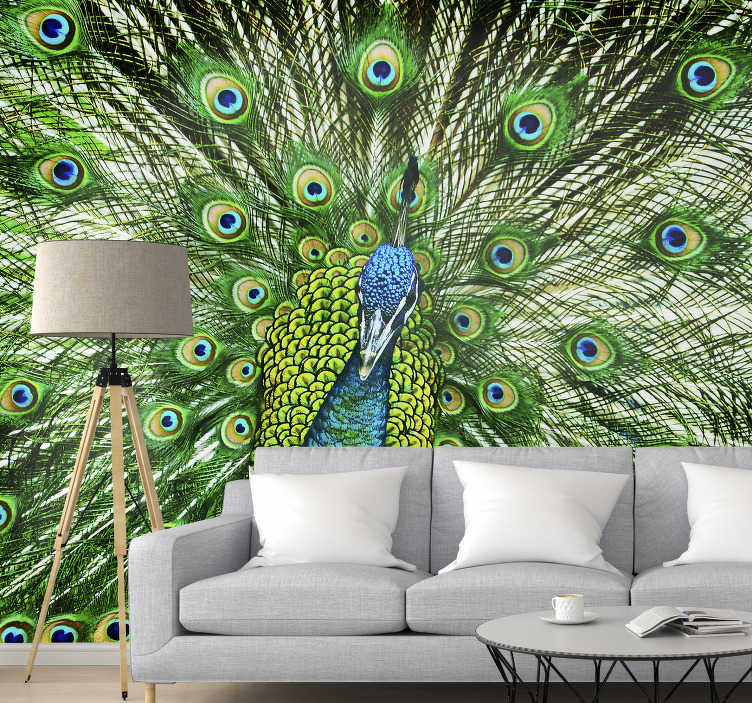 But the peacock has another peculiarity: it is a friend of sources. He must drink often and therefore live at the edge of fresh, living water. He loves water so much that he feels it coming.
On the eve of a storm hear him uttering his premonitory cry, which is called "minhas" in India, which means "the rain is coming".
Until the 17th century in France, the peacock was the most refined dish served on royal tables. Both for the delicacy of its flesh and its plumed plume.
In the ornaments of architecture and art deco that are so often found on the French Atlantic coast, it reappears, as a symbol of French elegance and the art of living.
Peacocks and fountains always go hand in hand. Buffon said in the 18th century, "the peacock would be the king of birds if the empire belonged to beauty and not to strength."
But you can now rescue it and make it the King of Birds on Wall Mural.
Peacocks in mythology
You will also find peacock wall mural on bedroom walls. Probably because in mythology the meaning of a peacock in your dreams is typically good. And especially for those finding a new partner.
This is a wonderful omen and foretells success, luck, and a career that you have desired.
It also represents longevity, spring, love, birth, and new growth. However, rarely, Peacock indicates danger because of their arrogance and false pride.
While peacock dreams are usually your good omens, peacock visuals in your sleep can signify that there is something you need to pay attention to. Suppose you have seen that Peacock is behaving strangely in your dreams.
In that case, you are using lots of energy to communicate or trying to make someone understand your opinion in some situations.
If this is the reason, then it's time you change your strategy to communicate with people and how explain your point of view to them. Perhaps it indicates that you stop wasting your time by trying to make someone understand your feelings.
Mystical Peacock in your dreams usually has satisfying and good meanings, ensuring your performance in the world. You also get slight predictions of the future.
Clean white and other colored peacock wall murals
A white peacock wall mural standards and tends to be one of the least expensive options at your local home improvement center.
Still, if you are lamenting your home's white walls but are prevented from repainting them because of rental restrictions? Take heart, the mural is both removable and reusable. You can even move house with it.
It is one of the few decorating tricks that make the most of white interior walls.
White walls always look clean and classic. But without the right styling, it can get boring, and fast. Whether your design aesthetic is coastal, boho, or minimalist, the white peacock can make an all-white space have a serious swoon factor.
red peacock
black peacock
Dancing peacock Wallpaper Mural
There's no denying that peacocks are some of the most beautiful (and slightly bizarre) animals on the planet. If you've ever seen a peacock at the zoo (or in the wild), you can't have missed their amazing feathers.
With huge feathers hidden in the tail, these birds look like a shady case of natural selection, but in an utterly fascinating way.
However, that's about as far as general knowledge of peacocks goes.
Ultimately, they have other rather interesting traits that help them stand out from the rest of the avian world. 
For example, if you see a peacock caught outside in torrential rain, there's a good chance you will see this beautiful beast dancing.
The question is
why do these beautiful birds love to dance in the rain?
The answer is not that simple.