Description
Plain green wallpaper are colors that are widely associated with the luscious beauty of nature. It's said to induce a sense of freshness and harmony. As plain green wallpaper helps to create rooms where you can feel relaxed and refreshed by your beautiful surrounding. At wallpaper Kenya you will be able to get the exact shade of  plain green wallpaper you want. Because we are able to customize any shade and all shades of plain color wallpapers.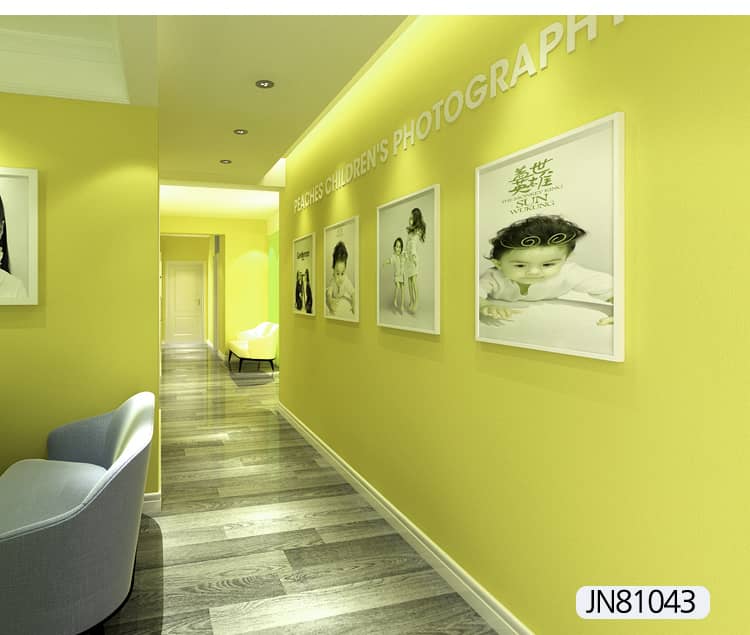 There are many different shades of not only plain green wallpaper.  But also patterned floral green wallpaper, green damasks, and green geometric. Plus all sorts of different designs green wallpapers. This is because green goes so well with many different interior decor styles. Plain green in wallpaper is thought to bring balance and harmony to its surroundings. So it's no wonder that it's a favorite choice in many interior decor wallpaper designs. Perhaps because green is so heavily associated with nature, it is often described as a refreshing and tranquil color. A Green wallpaper is soothing and peaceful. It gives a sense of naturalness and earthiness.
The word 'green' in modern English is derived from Anglo-Saxon word 'green'. Which has the same meaning as 'grass' and 'grow' in German. Green is the color of the living grass, leaves and is often associated with growth and nature, vivacity, life, freshness, hope, youth, calmness, tolerance, and love.
Available in an array of striking shades, Wallpaper Kenya green wallpapers have something for everyone. With everything from simple single color designs through to delicate floral patterns, classic stripes and bold geometric patterns. you're sure to have a green wallpaper to complement your interior styling.
Light green or dark green wallpaper?
With a dark green wallpaper you create a cosy, yet elegant atmosphere. While with a light green wallpaper you will achieve a brighter, more airy impression. But hang a warm, light green wallpaper to evoke spring feelings while also giving a more muted feel to the room.
There are an infinite shades of plain green color. But you can classify them broadly to roughly 24 shades, all of which Wallpaper Kenya can customize on wallpaper for you. These include:
Sage

A shade of green leaning towards grey is sage. It gives a washed out and dry sense to your compositions.

Lime

The color of summer. The most lively shade of green is lime. It's the perfect blend of green and yellow. Gives away a raw and young feel.

Olive

Olive is a dull shade of green, leaning towards grey and brown. It can be used to communicate antiquity and decorum.

Emerald

A luxurious shade of green. It can be used to exhibit royalty and extravagance.

Pear

A shade formed when yellow blends into green. Pear is a cheerful color.

Shamrock

It's a dark, matte green color. Can be used for a discreet, muted down look.

Sea-foam

This color reminds of paradise, the waters of paradise. Sea-foam is a beautiful color. Can make your wallpaper design look heavenly.

Parakeet green

This odd, unnaturally bright green color is striking, loud and gives out a sense of being unconventional.

Mint

A greenly shade of green. This color is the closest to green. Use a mint green wallpaper it to communicate a feeling of freshness and springtime.

Seaweed

A dead green color, with heavy influence of grey. This color conveys a winter mood well.

Crocodile

This is what green looks like in leather.

Chartreuse

Chartreuse is a French liquor which shares its color with Absinthe-the green fairy. This color has a gloss and gives a sophisticated feel to your design.
Patterned or plain?
The type of green wallpaper you choose will of course depend on the style you like and what your home looks like. When it comes to green wallpaper, choosing an organic pattern such as flowers, trees or leaves can be very effective. If you want a more pared-back style on your green wall, we have several single-color, green wallpapers to choose from. With a surface texture such as linen or shimmering metallic, the wall will nevertheless have a vivid expression.
Versatility of a green walls
Aside from the psychology of it, a green wallpaper's connection to the outdoors makes it a great color to pair with others. After all every flower, no matter what color, has a green stem. This means that even in a monochromatic green scheme, a pop of any other color won't look out of place. And that's the kind of interior design that grows with you.
The variety of shades of green wallpapers are here to stay, thanks to its unique benefits versatility.
One of the best things about either patterned or plain green wallpaper is the versatility for design and decoration. If you feel a little on the wild side, you can use more tropical plants to give it a jungle-like feel. If you prefer a more subtle area, you can create a beautiful flower wall. 
Textured plain green walls can bring a tropical setting to a cold office area. Or a quiet setting to a hospital waiting room. For companies, decoration is a determining factor that can turn an area into a work or rest area. And plain green walls can be customized for any type of setting.
You can't go wrong with Patterned or Plain Green
In a positive perspective, Green is the color of life, renewal, nature, and energy. And it is associated with growth, harmony, freshness, safety, fertility, and positive environment. Thus, green wallpaper reflects a blend positive forces of nature. Hence, the wallpaper is often used in interior decoration when there is a need to evoke a sense of balance and order. And also change and transformation. Both physically and mentally.
In Color Psychology, it is proven that a plain green wallpaper could evoke certain physical and psychological responses in the human body. The study often considers colors to be mostly associated with emotional effects as against scientific results.
You can use the wallpaper in medical centers as well. In treatment spaces, green is the most restful and relaxing color to the eye optically. A plain Green wallpaper is soothing, relaxing, and youthful – and is believed to help alleviate anxiety, depression, and nervousness.
Importance of Green Wallpaper in Interior Decoration
In the study of Interior design, the color Green is often used in certain areas, to create a restorative and soothing atmosphere. Green, is similar to blue, soothing to the eyes. And it is often a most preferred option for interior decoration.
As the second most relaxing color, a green wallpaper, in almost all its tones and shades is a relaxing, cold color. Your perfect color for you to achieve a relaxing atmosphere in a bedroom or anywhere you put it.
Ceiling:
Green ceiling wallpaper creates a Protective atmosphere.
However, it could result in a disturbing look when too bright or dark wallpaper tones are used.
Walls:
Mild Green wallpaper creates a cool and calm feeling on the interior walls.
However, too dark wallpaper color tones on the walls may create a sense of irritation to the eyes.
In advanced healthcare interior decoration, plain green wallpaper is often used to create a calm and relaxing atmosphere. In both residential and medical spaces.
Just as there are so many shades of green in nature, so are there so many different shades of green wallpaper. Some of which might not all be in stock. The best approach is for you to visit us at our stores at Wallpaper Kenya, Mazeras Centre, Langata Road, opposite T Mall.  We are next door to Madaraka Shell Petrol Station. Visit us to see our hard copy catalogs.
Are you are looking for a particular specific shade of green wallpaper and you can not find it? If so, you can as well use pain-table wallpaper to obtain the exact shade or tone of green wallpaper you envision.