Description
Plain white textured wallpaper will reflect light in the room. Whether smooth or embossed. By so doing it will  highlight the interior architecture of the room or space.
We have several different designs of plain white textured wallpaper. Most of them are pain-table. And also ideal to be used as plain white ceiling wallpaper. The bright white ones are lovely in a room, but dim white rooms look more institutional. It seems that no matter the style, from classic and cozy to clean and contemporary, white wallpaper interior decor just works.
In traditional, farmhouse or classic homes interior decoration, white wallpaper isn't the first to spring to most minds. We're more likely to consider deeper shades and other neutral wallpapers. But a white wallpaper can look really great in a country home. Particularly when showing off wall paneling.
However, pure white reflects light, visually increasing the space and giving the room a sense of purity and brightness. On sunny days, the light bouncing off the walls can be almost blinding. Off-white wallpaper is the perfect solution to this problem.
Use Solid White Wallpaper for a feeling of cleanliness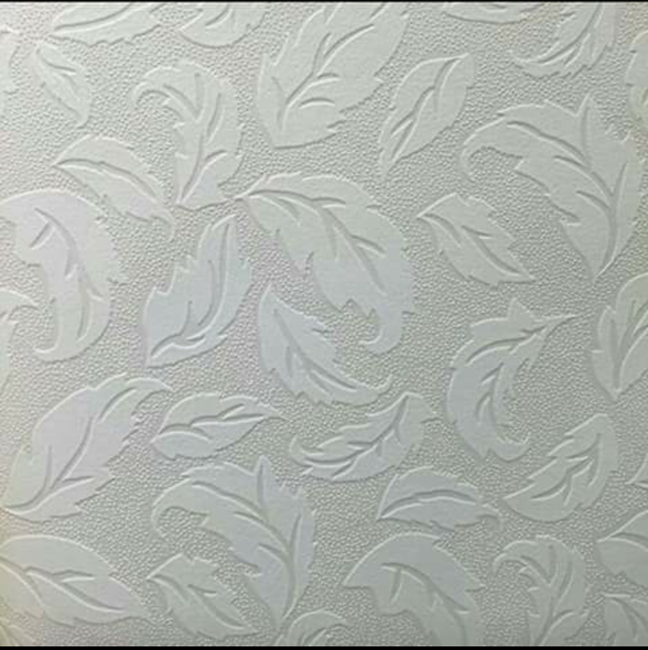 If you are looking for a softer feel and a clean look for your space, white can be a great choice. It is the perfect option to achieve a bright, simple, minimalist space with a calm vibe, or as a versatile neutral that will easily lend itself to more colorful accents. White often has a peaceful effect on mood and evokes a feeling of cleanliness.
Otherwise the wallpaper you choose help define the space, reflect your personality and set the mood of the room. When making your choice, keep in mind how you will use the room and what mood you'd like to create.
Solid white wall decoration is synonymous with light and, as such, it is widely used in homes to enhance lighting. Whether natural or artificial lighting, on ceiling wall wallpaper, or wallpaper for walls. And with this, the amplitude effect that is so much sought in projects is currently achieved.
And if we go further, solid white wallpaper in some rooms is recommended for its connotations of cleanliness and hygiene. For instance in bathrooms and kitchens.
Modern Architecture Plain white textured wallpaper
Does this one even need explaining? Modern interior architecture almost always defaults to white and white textured wallpaper is the best choice. And it is for good reasons. White wallpaper is the most reflective. Bouncing light from big windows around the room, showing off crisp corners to perfection.
Do you know why museum walls tend to be plain white? All art looks great up against it. Under these category you will also find texture pronounced enough as to be suitable for ceiling. Use ceiling wallpaper, to give a slab or gypsum ceiling texture.
Rooms in you house that are particularly suitable for you to use the white wallpaper are the kitchen and dining rooms. The kitchen and dining room are welcome a white decoration. These are areas where you handle food and must be shiny to ensure good hygiene.
To ensure cleanliness the white wallpaper, and other light shades are effective as they show places where there is accumulation of dirt. And this allows you to clean them more promptly.
Different Plain White Textures
If you're remodeling your home and you're considering something unique for your wall texture, there are a lot of different styles to choose from. All of them are beautiful in their own way.
White Comb textures are highly stylized wallpaper surfaces created through techniques which create lines of varying widths. The most common type results in a rainbow like image repeated at various angles on the paper.
The second one most favorite is white popcorn. The popcorn texture is generally reserved for ceilings wallpaper. It works very well for covering uneven ceiling tiles or other flaws. You can also apply the wallpaper to the walls. This wallpaper texture has the additional benefit of dampening sound because it is a thick paper.
Rough White Textured Ceiling Wallpaper
You now have no reason to go for expensive and strenuous stone painting acrylic emulsion modified silicon resins to texture your ceiling. Time is now gone when texturing ceilings was cementing material, special ingredients and natural mineral coral stone as filler.
Plain white textured wallpaper is best suited for high-quality ceiling wall decoration. You can choose different textures to give from the feeling of hard granite to snow drops. And all the while maintaining an elegant effect.
It is suitable for use in the decoration of high quality interiors, 5 Star hotels, entertainment joints, houses, schools, gyms, rooms, etc.
Textured white ceiling wallpaper
Ceilings are generally painted white in order to reflect natural light and for making the room appear bright. There are several styles of ceiling finishes to choose from. Some of the most popular are popcorn ceiling, skip troweling, Swirl Textured Plain Color Ceiling Wallpaper, knockdown, orange peel and smooth finish. There are others too.
The processes of making all these different ceilings can be difficult to execute for the average homeowner. This if because they all require skim-coating techniques often only mastered by experienced plasterers. Several coats should be applied to achieve a level, smooth surface ready to be sealed and painted. The final cost is usually quite high. Therefore being less favorable to new construction builders. They are therefore sourced by only homeowners looking to add value to their properties.
The good news is that all these ceilings are now available in plain white textured wallpaper.
Off white wall decoration
Different shades of white wallpaper, called off whites may be considered part of a neutral color scheme.
In color theory, a shade is a pure color mixed with black (or having a lower lightness). Strictly speaking, a "shade of white (wallpaper)" would be a neutral beige.
Colors often considered "shades of white" include cream, eggshell, ivory, Navajo white, and vanilla. Even the lighting of a room, however, can cause a pure white to be perceived as off-white.
Off-white wallpaper is not bright or eye-catching. And it won't be the focal point in your decor; instead, it is designed to create a background.
Artwork is such an important part of a decorating scheme. Because your art can be anything from an investment piece to a work of personal value, it's essential to integrate your pieces with the right colors. And an off white wallpaper is often the perfect backdrop. This is because neutral walls are the best way give your artwork the attention it deserves. Without any color competing behind it, this artwork becomes a focal point.
As the name suggests, off-white is a white color with a beige or grey tinge, which . In other words, off-white redefines the very purpose of white, taking your interior decor in a different direction.
Off-white conveys feelings of tranquility, helping to create a bright and peaceful environment. Unlike dark colors, this light tone is also great for making your room look more spacious. It's the perfect choice when decorating small homes.
White brick wallpaper
Use whitewashed brick wallpaper texture on gypsum partitions to avoid brick wall installation costs. From Shabby Chic to rustic-modern, a white brick wallpaper evoke a charming feel that blends perfectly with romantic and earthy spaces alike.
White brick wallpaper can take on a modern feel. Especially when hints of Scandinavian style are sprinkled into the mix. If you have a small space in your home with a blank wall, wallpaper with white brick to create an open vibe.
White marble textured contact paper
Contact paper is one of the latest innovations in wallpaper. Among the designs is plain white marble texture contact paper. You will find this particularly useful in the kitchen and in the bathroom. This is because it is 100% waterproof.
You can use the white contact paper on wet areas in the kitchen and in the bathroom. You can even use it on the areas which are traditional tiled. This is unlike other wallpapers ordinary wallpapers. While you can use ordinary wallpapers in the kitchen and bathrooms, you can only do so on areas traditionally painted.
This versatile product allows for dozens of new uses. You can cover a variety of items with the contact paper and dramatically alter how they look. Here are some of our favorite ideas.
White marble contact wallpaper in the kitchen or bathroom:
Line your refrigerator shelves. Covering your shelves is a great way to spruce them up and also adds a little bit of friction to the area to keep things from sliding around. Although it is the best for this wet area, it is expensive. Therefore, for other kinds of shelves look for something creative to substitute. Consider using old scraps of wallpaper to cover the shelves. The application process doesn't differ greatly from placing wallpaper on your wall.
Cover counter-tops with a marble paper.
Cover kitchen appliances with stainless steel, copper, gold, or silver contact paper
Freshen a table or cabinet doors with wood pattern contact paper
Cover a table with marble contact paper
Line a back splash to look like glass tiles, copper, or rock
Cover drawers, just like you used to, but now cover the sides too for a splash of color!
In the living room or bedroom:
Cover your ceiling fans with a bright plain white contact wallpaper
Cover the back panel of your bookshelves with a bold print either ordinary wallpaper or contact paper
Line walls with stripes or a border wallpaper
Create privacy windows with cutouts or designs
Cover the front of your wooden stairs with contact paper
Add temporary holiday decor on walls or mirrors with contact paper.