Description
Plain yellow textured wallpaper is ideal for your breakfast room, or the place where you spend some time in the morning. Because yellow will start your day in a sunny and happy mood.
Wallpaper Kenya has a couple of other plain yellow textured wallpaper but prices vary from catalog to catalog. This yellow wallpaper has unique impact on the elements in comes in contact with. It is a very cheerful wallpaper which brings joy to walls and makes them look bright and welcoming. Therefore it is is a great wallpaper for entryways. And a plain yellow textured wallpaper is a great way to create a warm and welcoming ambiance. An ambience that makes you and your guests feel comfortable right from the start. Where else can you use the yellow wallpaper?
The warming effect of the yellow wallpaper is applicable to hallways or to spaces that are usually closed off and lack windows or sufficient light. It is suitable when decorating walk-in closets, bathrooms or small rooms in general. Used in the breakfast room the yellow wallpaper will start the day on a sunny and happy note.
A Yellow wallpaper is bright and is used to bring joy and energy into spaces and it is eye-catching. Use the yellow wallpaper as a great wall accent when you want to highlight the most important elements in your interior design or to create focal points in a room
How to decorate with Plain Yellow Textured Wallpaper
To infuse more pleasant interior decor elements in your space, consider combining a patterned focal wall with the plain yellow wallpaper.
Most interior decorators use plain yellow to supplement other tones. But you can use plain yellow textured wallpaper to enhance any space. Because yellow gives a feeling of spaciousness and luminosity. And it is ideal for almost all decoration styles, since you can combine it with most tones used in accessories.
To use plain yellow wallpaper it is not necessary for your house to have the appearance of a "chick". But the idea is to take the range of colors that belong to this tone and make combinations. Likewise, you can also combine with other colors that are both complementary and contrasting (depending on your tastes). Among these we can count on orange, brown, white, black, blue, red, green, among others.
The yellow wallpaper makes your home shine and provides a summery holiday feeling in every season. Because this beautiful wallpaper yellow tone looks warm and cozy. You will fall completely in love with yellow wallpaper and find it difficult to escape the charm of the color.
The wallpaper will not only brighten the room, but also the mind. This plain yellow nuance has a pleasant, stimulating and activating effect . Which wall color can say that? The days when yellow tones were perceived as garish and intrusive are now gone for good. Because a sunny yellow wallpaper has a friendly, inviting effect and exudes pure joy and a happy, good-mood optimism. Yellow wallpaper can, to say the least, do a lot. So it's really worth taking a closer look at the wallpaper.
Yellow wallpaper in every room
Plain yellow textured wallpaper is pure sunlight, regardless of the base color or accent color. Yellow immediately puts you in a good mood. And that's because we associate yellow with summer, sunlight, holidays, fruits like lemon, and joviality. Even more so when it comes to plain yellow textured wallpaper. Which ranges in surfaces from smooth, to lively, romantic and ultra-modern to quirky.
The sun is rising at Wallpaper Kenya and we would love to share it with you. Whether in your home, business premises, doctor's office or therapy rooms. Joy and joviality for your life and home in every room.
Yellow in its various shades benefits any room and has a stimulating effect. The vibrancy of yellow can be tempered with pastel yellow or vanilla yellow wallpaper. So designer wallpaper with patterns or structures is also an excellent choice for the bedroom and fitness room.
Regardless of whether you are decorating a nursery, kitchen, dining room, bathroom, or office. They all benefit equally from the sleek, modern and sophisticated plain yellow textured wallpaper
And you should know that yellow wallpaper also makes rooms appear larger and more open. Thus balancing an unfavorable room layout.
Yellow color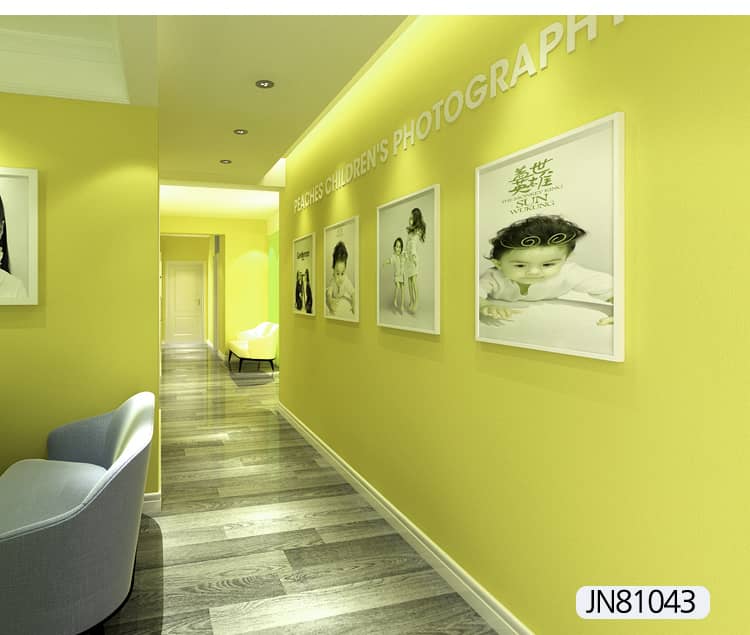 You know yellow is one of the primary colors.  And if you mix yellow with fruity red you will create an equally bright orange. While when you mix yellow and blue you will get green. And green is the base color for many shades of teal and blue-green. By lightening an intense yellow color with white, you will attain nuances such as pastel yellow. Or vanilla beige and other shades of beige. An when you mix yellow with black, yellow turns brown. The less saturated shades of yellow are known as ocher. Saffron yellow tends to be more of a reddish orange, while golden yellow is considered a very comforting and warm color.
Not all yellow is the same. Even if the bright family of colors cheers the mind throughout, every nuance has its own advantages. You will find light yellow, such as pastel yellow wallpaper provides a very special kind of freshness on your walls. These bright nuances enliven the room and promote communication. That is why light yellow wallpaper are ideal for the living room, dining room or youth room.
You can create a harmonious overall picture with white furniture and home accessories in rose or glass. A lemon yellow wall also stands out stylishly in a mix with dark gray or dark blue.
Yellow is also considered a color with healing properties. It is said to have a detoxifying effect on the body and is frequently used to help relieve liver problems, weakened immune systems, or rheumatoid arthritis. Yellow gives strength and can support the healing process.