Description
Some of the most realistic 3d wall murals are photo murals.
The likes of 3d forest photo murals are so realistic as to fool you that there is no wall.
Realistic 3d murals have a house decorated with incredible images that will create an amazing visual effect on your wall.
Of course, there is no better way to make your interior unique, luxurious, and original.
But you should understand that you can not have a truly realistic 3d mural in the regular wallpaper category.
It has to be custom-made. Because regular wallpaper comes in a universal standard size roll. Which is unrealistic.
With our realistic 3d design elements you will have a decoration that you will not be able to stop looking at.
It will leave you surprised and everyone will envy your fantastic decoration.
Say goodbye to the walls of a single color that have nothing interesting.
And apply one of our incredible designs with which you will spend hours and hours contemplating your wall. 
You won't believe your eyes when you see these 3d murals! They practically leap off the wall at you.
Realistic 3d murals take wall art to a whole new level.
And it's will be a nice surprise to see these 3d images popping out at you on the wall.
How to distinguish realistic 3d murals from others
Realistic 3d wall murals are distinguished by a three-dimensional image, which creates a real sense of presence in the picture.
Such a mural visually expands the space, as if the image goes beyond the walls.
And the wall becomes visually more voluminous.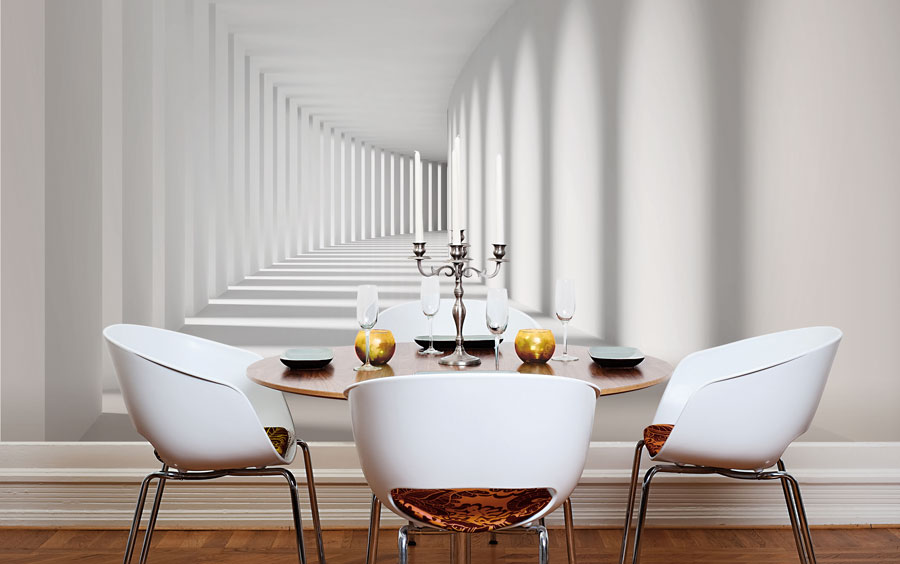 3d Photo murals can be selected not only for the wall and ceiling. They are ideal for decorating various areas of the room, partitions for instance.
And because they are custom made, these modern 3d murals on look quite expensive and extravagant in the interior.
Because they are competently selected images and plots that are in harmony with furniture, lighting, and the general style of the interior. And this allows you to fill the room with a completely new atmosphere.
Why decorate your walls with realistic 3d murals?
The answer is that realistic 3d murals are an excellent option to achieve a different and unique decoration.
Because you are going to have a magnificent house that you will not want to leave. Our designs are easily placed and the process does not involve an excessive effort for you.
And since you can place it with ordinary wallpaper adhesive. It is a way to improve your decoration without having to reform your house.
As we have previously mentioned, a large portion of successful realistic 3d murals lies in the clever utilization of
perspective art
, and a deep understanding of it.
The 3d mural designers or artists do not rely on their mere talent. But they also study hard, do a lot of research, and practice diligently to produce a successful and life-like mural.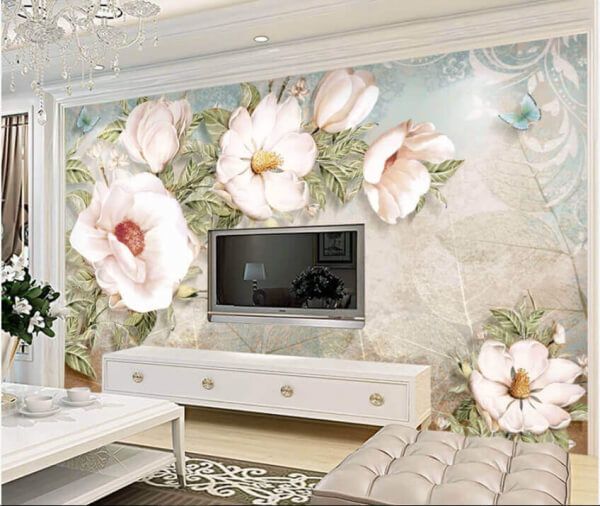 The main advantages of 3D murals on the wall
Wallpaper Kenya provides you with an original, exclusive realistic 3D effect for any interior design for large and small rooms.
The moisture-proof, light-fast, wear-resistant surface of silk fabric has many advantages:
easy to stick, adhere well to walls and other surfaces;
easy to clean and does not require special care;
do not deform, do not fade, do not fade due to rays of light over time;
Silk fabric "breathes", therefore it is safe for human health and the environment.
 Where can you use realistic 3d wall murals?
At Wallpaper Kenya you can make realistic 3d murals for the nursery, bedroom, and even the bathroom. You can use murals with realistic three-dimensional images in any room.
You just need to choose the right design:
Scenic landscapes – suitable if you want to create a relaxing atmosphere, used in living rooms, bathrooms (seascapes), and bedrooms;
Floral – can be used in any space with a large area (in small rooms it can create a feeling of compactness);
Abstractions are a suitable option for high-tech or loft-style rooms;
Fabulous – used to decorate children's rooms.
When choosing, you should take into account the style of the interior, the area of ​​space, and the type of room.
For the bathroom, the "Water" stereo wallpaper is suitable. And for the living room – coverings with a photograph of a tulip field.
If you need help choosing, please contact the Our Designer, Kenta Kamau. He will help you choose realistic wall coverings, and answer other questions that interest you.
In addition to competent assistance and a wide range of realistic designs, we guarantee you a favorable product price.
At the same time, the already affordable price of regular wallpapers is regularly reduced due to sales.
3d wall art – An Optical Illusion?
The appeal of realistic 3D wall art lies in the fact that people love to have their eyes tricked.
In this type of mural angle is everything! A stunning image can be seen as a blur of lines and shadows when observed from a different perspective.
And this makes our minds work overtime to figure out how did the artist manage to master the skill of angling and perspective to create the mural. The "Ahhh, so it's an optical illusion" is probably the most pronounced sentence after the big revelation.
An optical illusion is, as the pretty self-explanatory name says, an abstraction based on optical illusions.
These types of wall artworks are usually done in a combination of dark and light shades. Which is what makes the viewer think that there is some type of movement, hidden image, or warping going on.
The wide variety of 3d wallpaper designs at your disposal
We have an inexhaustible collection of realistic 3d designs with which you can decorate any wall in your home and give it charisma and personality.
An ideal product to get home and be comfortable, feel that you have your home as a unique place. In our catalog, you will see a wide variety of designs, such as cities, spirals, and extrusions, among many others.
Take a look, and you will see that it will be difficult to choose one but finally, you will be able to choose the one that best suits your personality.
Realistic 3D wall murals and photo wallpapers will create incredible effects, and they are also of the highest quality. Indeed it is an excellent product you can place without any problems and bubbles during or after application.
We use Matte finish to avoid reflections in sunlight and for your ease of cleaning with a damp cloth when need be.
The time has come for you to give a personal touch to your home, where you feel comfortable and a place where you do not get bored after spending many hours.
Make entering your home great and be proud of it.
The Realistic 3D wallpaper murals will make you feel this way whatever the room where you place it.  Our designs are valid for any place in the house, wherever you want to put it, it will create an environment tailor-made for you.
Realistic 3d perspective and photo murals
In a collection of free images of 3D and perspective and photo murals, you will find innovative wall decorations.
The wide variety of choice of 3D and perspective realistic wall murals makes the decoration of every type of interior possible. 3D and perspective is an inspiring theme, which is a main trendy motif in interior design.
Find 3D and perspective murals for your living room, kitchen, or bedroom
A modern apartment cannot do without original wall decorations. In our collection of 3D and perspective murals, you will see products, which you will successfully match with your living room design. In the selected location 3D and perspective murals will give your home an elegant character. The mural is a rainbow wall decoration, which will make you curiously decorate your apartment. In a collection of perspective and 3D murals, you will find dozens of ideas for decorating your apartment.
3D and perspective murals will not only look good in a living room. Custom murals in pastel colors will help you create an isolated corner in your bedroom. The collection of 3D and perspective murals will also look good in other interiors. The kitchen, dining room, or hallway are the interiors, which are worth enriching with 3D and perspective murals. 3D and perspective collection wall decorations will help you change your apartment into a modern and stylish interior.
The difference between stereo and realistic 3d murals
It is wrong to use the terms 3d mural and stereo wallpaper interchangeably. Usually, the term "stereo" is used for sound and means its volume and depth. But designers use it to characterize images.
A stereo picture (like stereo sound) creates a sense of volume. But in this case, visual.
Stereoscopic wallpaper is a polyester coating on the surface of which a three-dimensional image is applied. This effect is achieved by overlaying the pattern in layers. As a result, the picture looks as realistic as possible (if you look at it from a distance) and can create the desired effect. With the help of such canvases, you can visually expand the area of ​​a cramped room, making the room brighter and more.
Stereo wallpaper differs from the classic 3-D photo wallpaper in its effect. If the image just looks three-dimensional in the first case, then in the second, it looks realistic.
Elements printed using a special technology create the visual illusion of expanding space. You can go into the living room, go to the side of the stairs, and only coming close to it realize that there is a wall in front of you. Classic 3D coatings are not capable of this.