Description
A Rose wall mural is the best choice if you have a romantic and passionate spirit.
And the variety of colors of rose flower wallpaper murals is very wide.
If you are a girl or a woman or you want to make your daughter's room more feminine and delicate then the wallpaper with roses in shades of pink is the best choice.
But if you want to add a touch of passion to the bedroom, then opt for a wallpaper with red roses.
For a living room, roses in shades of orange, white, grey or a wallpaper with roses of various colors can work well.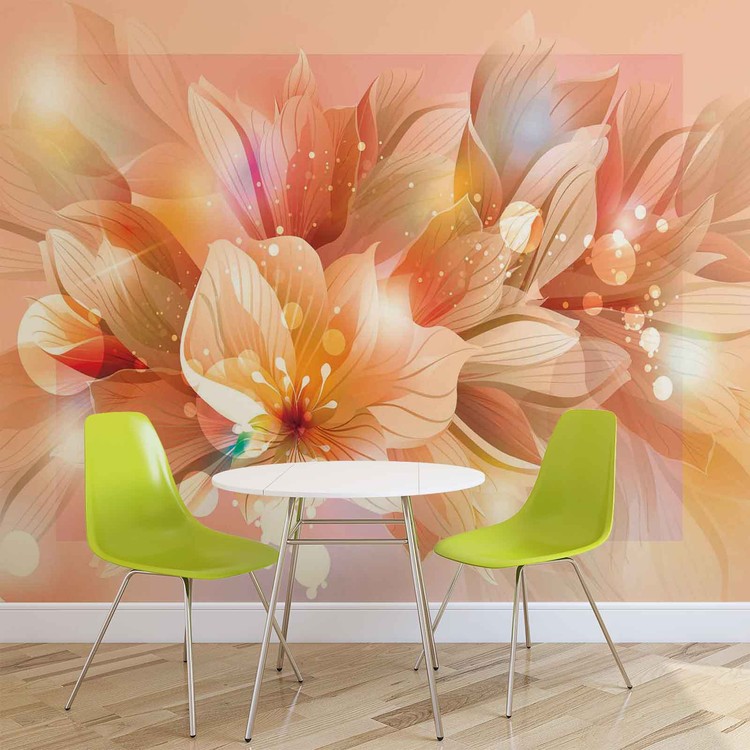 But for the kitchen and the bathroom to give a touch of freshness and brightness you can try to use white rose wall murals.
Or wallpaper with roses of various colors.
And Rose Wall Murals are perfect too for decorating beauty salons and spas.
Order your new photo wallpapers with roses from Wallpaper Kenya and get a floral splendor into your home.
Why settle for a picture on the wall when you can get an entire wall with the most amazing roses?
Custom rose wall murals
Antique custom made rose wall murals can be a good decoration if you own a retro or vintage home.
And you can also be daring by combining different designs.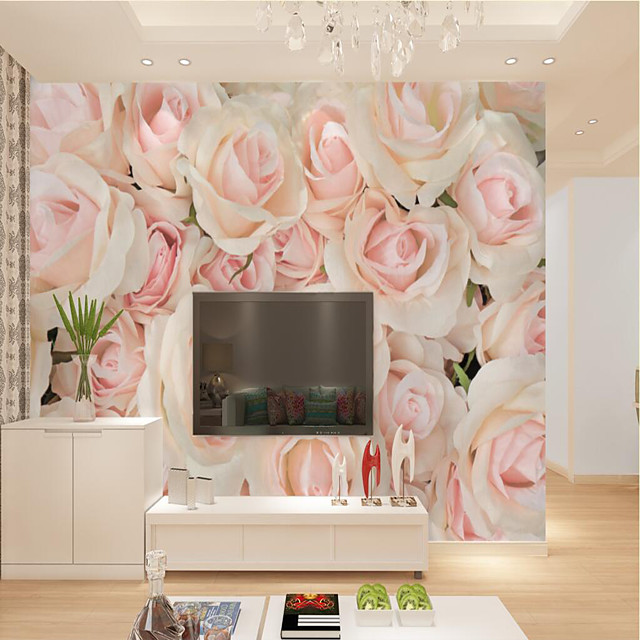 With the wide choice of options in the Wallpaper Kenya catalog from Shutterstock you have all the possibilities to create compositions of various kinds and give vent to your imagination.
The designs include abstracts and patterns, as well as bouquets of roses, all held together and photographed up close. 
Rose wallpaper murals are great when used in living rooms, bedrooms, offices or even as floral backgrounds in a boudoir or makeup studio.
Do you feel the need to make some changes to your home? And are roses your ideal for creating the home of your dreams?
If so, in just a few steps using rose wallpaper murals you can get what you want without the need to make radical changes to your décor. And without spending a huge amount of money.
Different colors for different walls rose wallpaper murals
With thousands of different designs and color shades of rose wall murals at Wallpaper Kenya, you can create a stunning floral feature wall in any room of your home.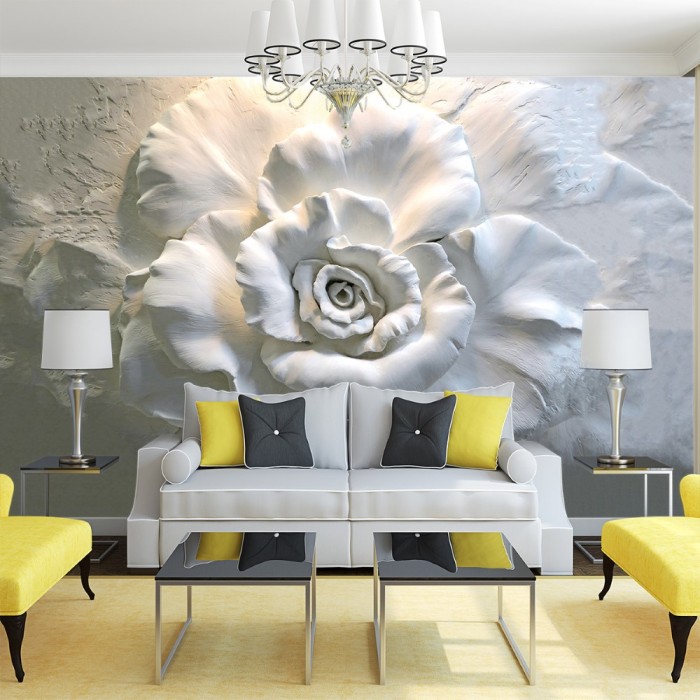 With spectacular detail and bold colors, our large rose wallpaper murals are on-trend.  And can add a contemporary or traditional interior style to any room of your house.
We have designed photo wallpapers in a multitude of categories. So there definitely something that fits into your home.
We also have abstract rose wall mural with the most beautiful flowers. Order a wonderful wall decoration with roses from Wallpaper today and receive it tomorrow.
Treat your family to a uniquely beautiful wall with one of our fantastic photo wallpapers with roses.
Ranging in color from white and yellow through to red and pink, these wall murals capture the beauty of the rose's overlapping petals that cluster together to create these glorious flowers.
Perfect as a backdrop for a romantic bedroom interior, our rose wallpaper murals are ideal for any nature-loving person.  Or simply for those of you who are looking to create a wonderfully beautiful interior vibe.
Red Rose Wallpaper Mural
When you enter a room and a red rose wall mural with dew drops on the petals, you will certainly remember that a person was born for love.  The red rose is the emblem of love. Photomurals "red rose" are suitable not only for married bedrooms, but also for hotel rooms, decoration of restaurants and beauty salons.
It will be easier to energize the room if you opt for a red wallpaper mural. This color will stylishly fit into the interior of the living room or hall.
Be careful with your red rose wallpaper not to overwhelm the room. You can also combine red roses with roses of other colors on the same wallpaper.
In the design of modern interiors, neutral shades are usually used to combine on a red rose wallpaper. The combination with beige and or with grey, blue and white, brown and gold – all these options look very appropriate.
Purple Rose Wall Mural
White Rose Wall Murals
So, you have not yet decided on an image for a photo mural! But you already firmly know that delicate or bright buds must be in your interior.
Feature of photo white rose mural wallpaper with is that it will perfectly fit into the design of any room. And, being neutral, white roses will be sustained in any color scheme.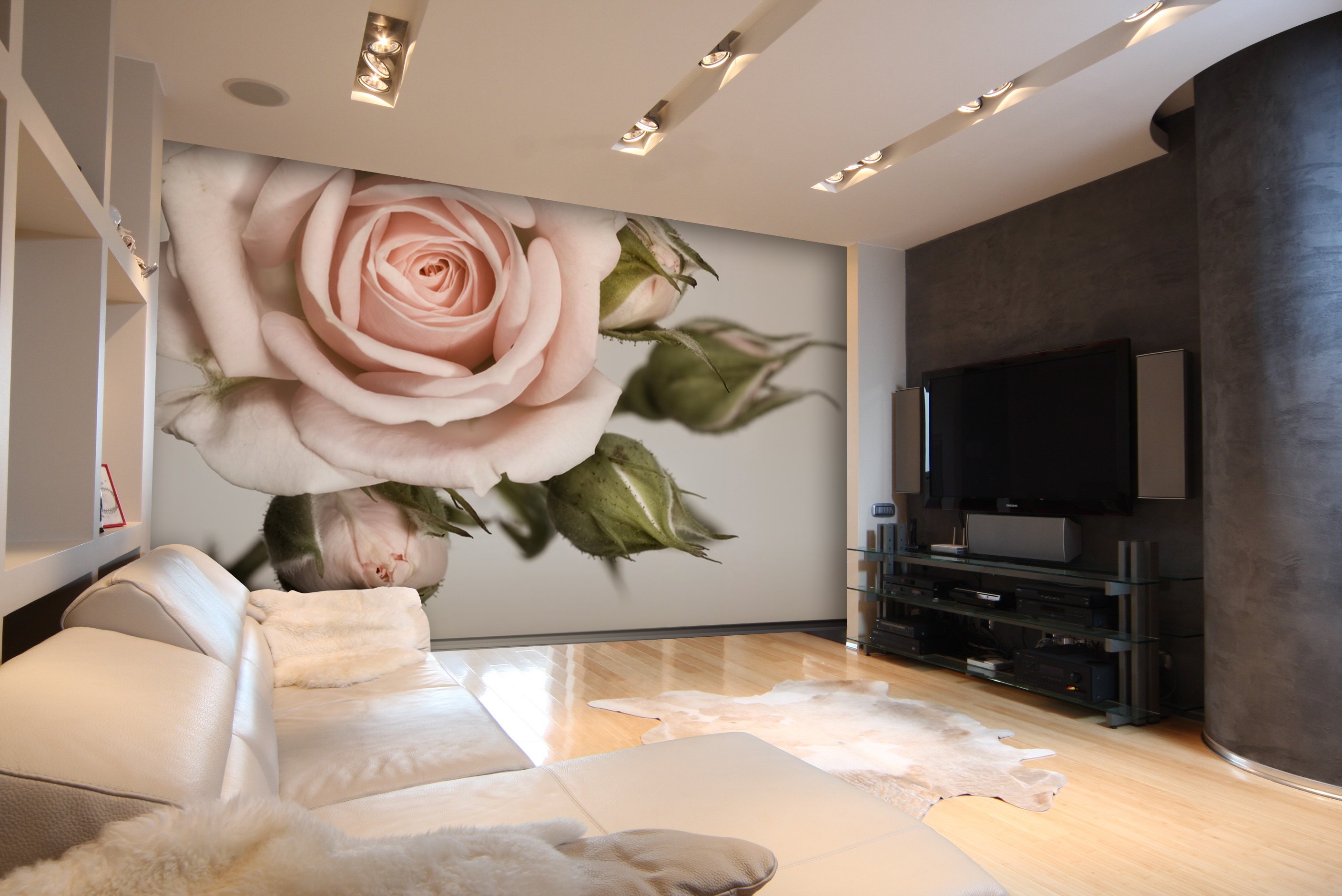 This is exactly the case when it is not necessary for the color scheme to be uniform. A play of contrasts is appropriate here, which in any other case could seem quite risky.
It is not at all necessary to choose the shade of the bud to match the color scheme of the room. The combination of shades, seemingly completely incompatible, allows you to emphasize the advantages of all styles.
Minimalist white rose wallpaper
Take a good look at the pink rose wall mural here below.
If you have long been obsessed with minimalism and perfectly clean, white walls, that is about to be history. Because white walls are no longer a dominant part of the trend when it comes to interiors.
Now we want colors and patterns like never before! There are actually many reasons why we are drawn to patterns from nature. It has a long history when it comes to interior design and that may be why it has come up again. Like all other trends, currents are also recycled when it comes to wallpaper and colors.
With a white rose wall mural, you still retain your favorite color, but in an intricate, sophisticated natural shades and pattern. And these are value added elements of beauty.
Other roses, Orange, yellow, green, blue, pink, purple and many more
When it comes to satisfying your rainbow cravings in wall murals, few flowers satisfy like the rose mural. Because you will get even a blue rose mural if you like.
Although we have thousand of designs ready, and which could have been Photoshop edited, live roses also come in over a hundred colors.
Horticulturists are hard at work developing new hues and bicolor.  While also bringing us improved vigor in the primary tones we've come to depend on for brilliance in wall decoration.
Whether you like the calm vibe of an all-white rose wall mural, the contrast of color wheel opposites, or the free-spirited look of a patchwork cottage garden, there's a rose mural color to suit your needs.
In history, the original roses only existed in shades of white, pink, and red. People enjoyed these colors which were even considered as classics. But there's always a thirst for something different.
That is why breeders sought to introduce new colors and varieties to further improve and widen the marketability of roses. And interior designers and wall decorators followed suite with rose wall murals in all shades of color. And you will find them all at Wallpaper Kenya.
Over time, more exotic cultivars were introduced and people clamor every time there is something new.
More than a century after the yellow roses were discovered, the radical orange roses entered the picture which paved the way to more and more experimentation on rose flower pigments.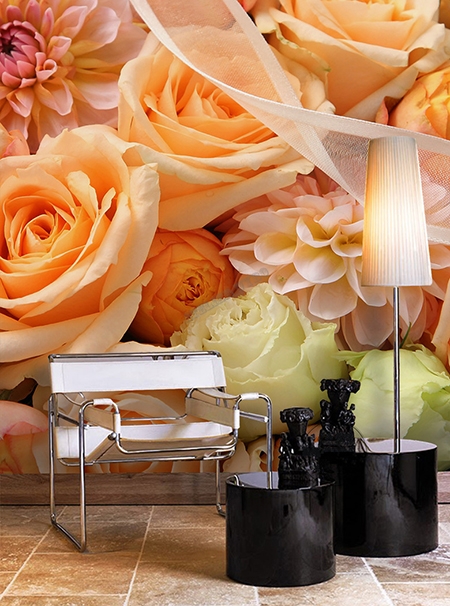 Today, numerous orange roses have become available with shades ranging from soft coral to peach to vivid tangerine. Orange roses truly gave the traditional rose a fresher and sensational twist.
Orange roses had exciting contributions to the history of roses and this article will discuss their story and will try to determine what makes this modern rose tick.
The advantages of any rose wall mural wallpaper
Irrespective of the color of your rose wall mural from Wallpaper, here are some to the benefits you will accrues.
An atmosphere of purity, tenderness, relaxation and peace;
Versatility. Most rose wallpaper has a light shade, so they can be glued almost anywhere;
A wallpaper in bright colors visually expands the space, so they are often used in small rooms; Wide range of colors;
Ability to use space when zoning to emphasize the emphasis on a particular wall.
It comes on a very durable silk material that is watchable, un-scratch able, removable and reusable. You can move it from one wall to another.
You also get the best value for money.
And free installation if you are in Nairobi.
Plus we will also give you the design image for free if you choose one or more from the millions of them on Shutterstock library.
Frequently asked questions
Can the rose photo mural wallpaper be wiped off?
In contrast to paper wallpaper, our silk fabric wallpaper murals are much easier to care for. You can clean your rose wall mural with a damp cloth and even mild soap. Because the UV-resistant printing inks are moisture-resistant and do not lose any of their brilliant coloring.
Benefit from these high quality and durable rose wallpaper murals.
How can I stick a full wall rose mural wallpaper?
It is very easy to stick wall murals. And if you are in Nairobi we can do it for you for free. But you can also easily install the wall mural yourself, because we supply you with the paste and the wallpapering instructions directly. Make sure the surface of your wall is clean and free of bumps before you start wallpapering.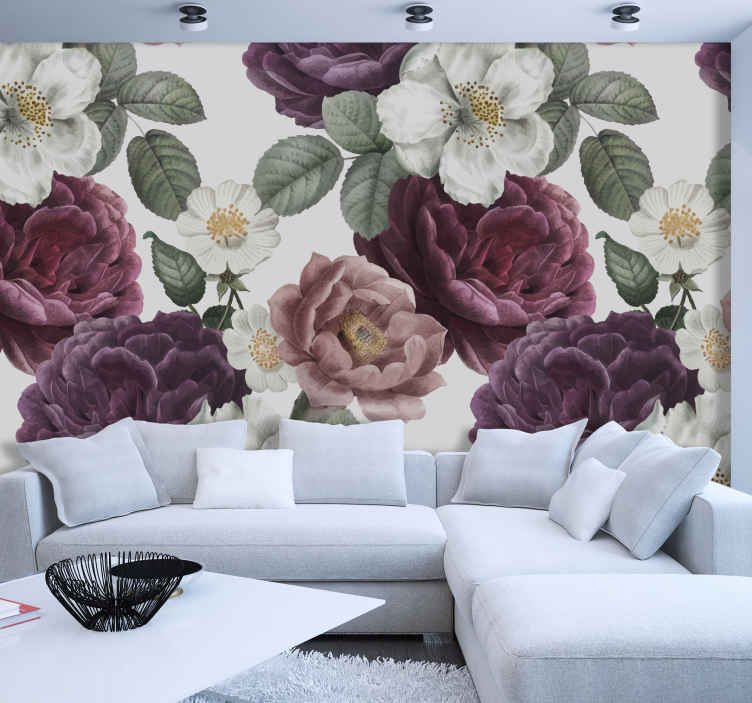 You apply the thick paste to the surface of the wall only. And then line the wallpaper directly on it (you don't have to paste the wallpaper itself). That is all, and your apartment is transformed into a beautiful sea of ​​roses.
Do I really need to prime the wall before I hang a wallpaper mural?
Yes, we do recommend you prime the wall first. Sometimes referred to as the old fashioned process of "sizing", priming is an important part of the wallpapering process. Because Primer makes an ideal and uniform surface for your wallpaper mural to stick to.
And is also an important part of making the wallpaper removal process extremely easier. Priming the wall properly will also help in the removal of the wallpaper when it's time to update your room with a fresh new wallpaper.
And remember, our rose murals are not only removable, they are also reusable.