Description
Rustic brick wallpaper S-20053
Use exposed or rustic brick wallpaper S-20053 to add an unsophisticated quality into a living room, dining room or even bedroom. Thus bring in added warm atmosphere with its natural décor taken straight from nature.
You can also get the wallpaper in other colors and shapes. Including rustic red brick, rustic grey brick wallpaper, and rustic white brick.
Beautify your house adding rustic wallpaper thus mix and match your contemporary styles with ornamental details. The easiest room to do this is in your kitchen. Modern appliances with sleek stainless steel will contrast well with the simple rustic wallpaper.
Clad your walls with rustic brick wallpaper and create an eclectic look that emphasizes nature. Meaning timeworn, handcrafted, distressed, constructed of natural materials. Here is the way you embrace nature-inspired textures, simple earthy colors, and unpretentious, organic warmth. Rustic brick style is more about specifications.
The color palette of rustic brick walls tends toward brown, white, grey, and green. And this neutral aesthetics provide a calm effect.
Rustic red brick
Believe it or not, but the truth is that this exposed red brick dining room wall is not real brick. It is wallpaper.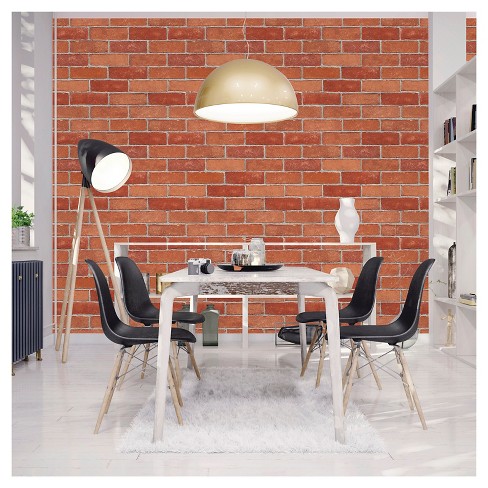 If there's a so-called "trend" we can't get enough of, it's exposed brick. Only few some lucky homeowners, strip away drywall to reveal beautiful brick walls. And these walls impart timeless texture, warmth, and character to a space that is the trend now. Because there's nothing quite like original clay-and-mortar blocks to recall a home's history. And to lend styles from rustic to industrial.
But there are many drawbacks to uncovering the literal building blocks. Note also true exposed brickwork isn't possible in all properties, particularly modern builds. And that is where you bring other options of such a great realistic rustic red brick wallpaper comes in.
Rustic grey brick wallpaper
Besides the craze associated with the rustic look, "We are embracing rich, saturated blue, green, and grey colors that change based on the time of day and light in the room. They immediately create a mysterious, sexy, and interesting space." — Kristen Peña of K Interiors
Rustic white brick
Rustic brick wallpaper S-20053 interior decoration
In rustic interior design the you will use naturalness, careless elegance and accentuated roughness of natural ambiance. For rustic interior decoration you use elements which we consider as rustic and refer to rural life. If you think of the term "rustic", then most probably the classic country house style comes to mind. Rustic interior decoration inherit some features from Country style.
For the best results of your rustic interior decoration harmonize the wallpaper natural colors. This includes use of shades of brown, green, gold, and grey for your other furnishings. For your furniture use of natural materials such as wood, stone, textured fabrics: canvas, and burlap. You will notice that the main idea of rustic interior décor is simplicity, naturalness, and solidity. All these creates an atmosphere of harmony with nature. And this means lack of modern materials. Therefore avoid using metal, plastic and synthetic fabrics.
Rustic brick wallpaper harmonizes well with simple natural materials furniture. Therefore, if possible make use of hand-made furniture items and decorative element. In rustic interiors distance yourself from the contemporary high-gloss look, which modern concepts are all too happy to take up. Therefore you rely on the charm of the imperfect. To preserve a high degree of naturalness, especially with wooden furniture. In the course of this, shabby chic is of great importance. Furniture that has been deliberately made old and that confidently present its supposed flaws as a defining design element not only causes a stir in the country house style.
Use exposed brick wallpaper for a rustic and homey touch
Depending on how you use it, an exposed brick wallpaper can be both elegant, classic, rustic, homey, or even modern. As the texture and color offers a unique opportunity to break with the flat colors so typical of walls.
The original bricks Mud brick, dried in the sun, is anything but glamorous. It is conceivable that on the Nile, Euphrates, or Tigris rivers, following floods, the deposited mud or silt cracked and formed cakes that could be shaped into crude building units to build huts for protection from the weather. But today its imitation in wallpaper is common as a decorative resource in homes of all kinds, even luxury.
The exposed brick in the fireplace evokes that country house in which to flee from the hustle and bustle of the city. If your house doesn't have a brick wall, you can always pull the faux wallpaper. With it you will achieve a highly accomplished and hugely realistic brick wall.
Rustic Brick Wall Living Room
In rustic  interior decoration you place the focus on rustic brick wallpaper. The benefit you get is warm appearance and the resulting cosines. For city dwellers in particular, rustic walls and furnishings can bring the long-missing naturalness to their own lives.
Add a cozy rustic touch to the living room with a rustic brick wallpaper. Such a wall becomes an eye-catchy feature wall. Making your own brick wall you'll achieve a homey feel in the room. You can also make a fireplace in this way. As we have a wide variety of 3D rustic brick wallpaper, you will achieve a comfortable rustic character depending on your choice of the color of the brick. And how well it works with your room's color scheme. By shopping at Wallpaper Kenya you will hit two birds with one stone. You will find curtains to match your wallpaper at the one stop.
Complementary curtains to Rustic brick wallpaper S-20053
Match the your rustic brick wallpaper S-20053 color using the color wheel to guide you toward harmonious curtain color hues. For instance Brick wallpaper that's rustic red works well with soft yellows, cool greens, and creamy antique white curtains.
The greater the contrast between the color of your wallpaper and the curtains, the more attention you'll draw to the wallpaper. Incorporate touches of the brick wallpaper color in the curtains, to knit it into your design scheme. By choosing a neutral color curtains that's in the same tonal range as the rustic brick wallpaper you integrate the wallpaper into the room. That way you create a more harmonious, unified whole.
If the wallpaper is the darkest element in a room, the space can feel a little oppressive; to prevent this, include a darker element in the curtains.
Bedrooms
Rustic Brick Wallpaper cladding is very popular for bedrooms, most especially for headboard walls. Install exposed rustic brick walls look to create an ambiance. Especially if you have a masculine bedroom and want to highlight it.
When decorating your rustic bedroom, there are many options to choose from. For when you use nature interior decor, such as wood effect and brick wallpaper, you create a peaceful and restful place. Rustic bedrooms take their inspiration from old fashioned exposed brick farmhouses, barns and wilderness cabins. Therefore, for a variety of textures, mix brick wallpaper and wood effects wallpaper.
Nature interior décor will help you create the feeling of a countryside bedroom. That is the way you create a relaxed atmosphere inside your bedroom. When you use brick wallpaper on the walls, use wooden beams effect wallpaper for the ceiling. Any color scheme and any design style can benefit from the use of nature themed wallpaper.
Bathrooms
To add industrial chic to your bathroom, add wall texture with an accent brick wall. It doesn't matter if your your bathroom is modern style classic and elegant. As a rustic brick wall is an amazing combination with anything. One important point you should consider is that in damp spaces you need to cover the bricks wallpaper with special finishes such as clear wood vanish to avoid mildew.
In a nutshell