Description
The different white 3d wallpaper for walls include custom-made, 3d foam wall panels, and the regular wallpaper.
But it is the custom-made white 3d wallpaper for walls that best kills the notion of plain white walls as cold, boring, and sterile when overdone.
Because seeing is believing, you will agree with me that white 3d wallpaper is attractive and appealing as opposed to plain white walls.
Other than custom-made, you may choose white brick peel and stick
3d wallpaper.
The color of the walls is of fundamental importance in interior decoration.
First of all, it allows us to make a first impression of the interior.
But white gives it spaciousness and light to make you feel comfortable.
We also emphasize the 3d effect of the white wallpaper, the
"stereoscopic images".
Contrasts of blurry and sharp objects, light and shadow, and bright and muted areas create the feeling of tangible objects.
As if emerging from the walls.
The three-dimensional effect of the white 3 floral wallpaper on the wall, or the distant perspective solve functional problems.
They visually expand the space of a small room.
And also make up for the lack of windows, and natural light, compensating for the architectural imperfections of the room.
So, the white color makes it possible to make the room look spacious, bright, and modern.
And therefore is often chosen when renovating a living room.
This is the first point that differentiates 3d wallpaper, paint, and other plain wallpaper for walls.
Plain white has its place in interior design.
Because it is familiar, bright, and offers a clean background for highlighting home furnishings and features.
But 3d white wallpaper for walls is in itself a powerful interior decoration.
3d White wallpapers are amazing and interesting wall and ceiling decorations.
The illusions of depth and space created by various tones of grey and off-whites allow you to beautify your home with a unique wall.
Black and white wallpaper
What do you think about black and white 3d wallpaper for walls?
If you are a fan of minimalist and loft styles, you have probably thought about the trendy combination of black and white.
In the interior of the kitchen, this option looks as stylish as possible.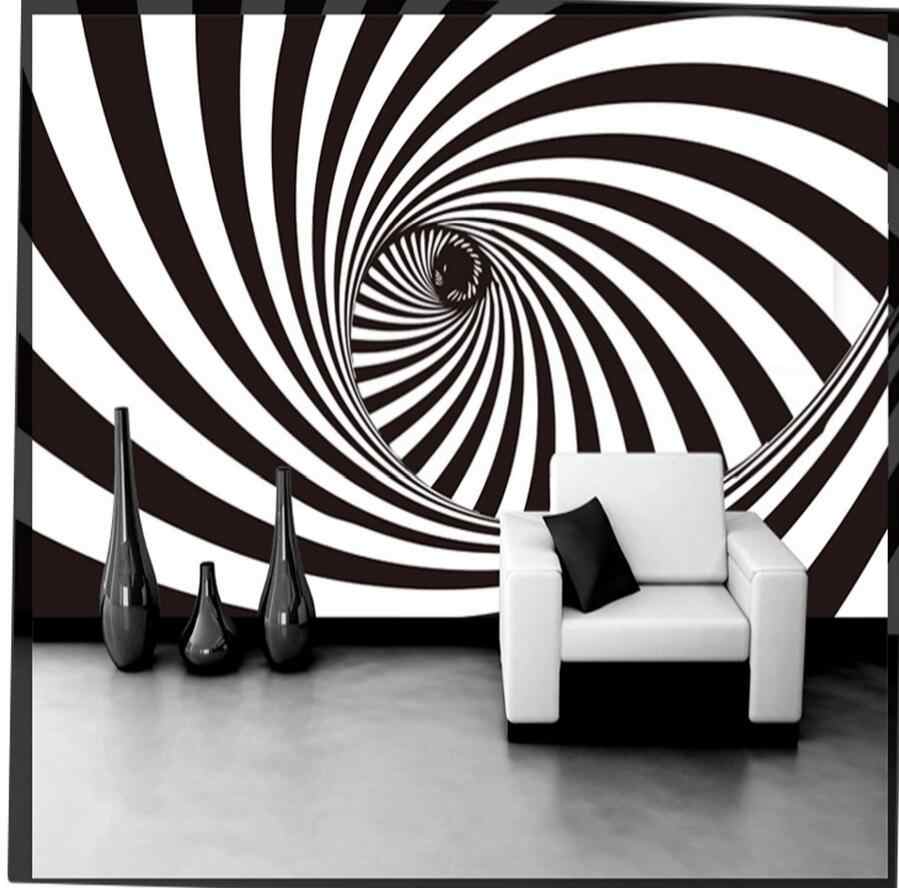 Black and white volumetric wallpapers look incredibly stylish and always appropriate.
Depending on the 3d image, they are actively used in home interiors and offices.
In a man's room, black and white sketches will look harmonious.
But even in the living room of a modern married couple.
Taking into account the tastes of the owners and the style of the room, 3d photographic images look good.
Black and white 3d murals are easy to stick on the wall.
And it can be a separate small fragment in a vertical format or a luxurious canvas for the whole room.  
Black and white are the colors that give it energy and convey security and a bit of elegance.
This style of decorations will suit perfectly not only the modern interiors of your home but also the offices arranged in an industrial style.
3d wallpapers can also decorate small rooms.
And they will give depth to them by visually enlarging small rooms.
Decorative accents with three-dimensional effects can highlight the strengths of any type of interior.
white 3d flower wallpaper
One of the most fashionable white 3d Wallpaper for walls remains the white floral phot0 wallpaper.
With the help of a floral 3d wallpaper mural, you can make transform your interior space without labor and dust.
Gluing the mural is very simple, like ordinary wallpaper.
If you have experience in wallpaper installation, then you do not have to resort to the help of professionals.
You can handle this easy task yourself.
In the production of white 3d floral wallpaper, our priority is environmental friendliness.
We do it on a seamless silk fabric that is both removable and reusable.
You can safely glue photo wallpapers in the nursery. And the production time is only one day.
The "flowers" ​​category presents luxurious buds of orchids, roses, lilies, tulips, and lush bouquets as if escaping from the usual geometry of the walls.
Shades of white in flower photo wallpaper murals are very relevant both in and wall decoration. But there are also major trends in the use of white flowers in interior design. And you find this in white kitchens, walls, bedrooms, and false ceilings.
Make a small room look bigger with white 3d wallpaper
For a small apartment, white 3d wallpapers are real salvation. There are ways you can decorate your house and go from a small room to one that seems larger. It is not just about changing the paint on the walls to a white 3d wallpaper.
The trick also lies in choosing and combining the proportions of the furniture well.
And to select the shapes that are most suitable for the space that the room occupies.
You can have an amazing bedroom, even if it's small. It doesn't have to be boring. Make the most of the space you have, and have fun!
But here we are concerned with the wallpaper. Every room needs a focal point. That design element captures your eye the moment you walk into the room.
It can or a white 3d wallpaper for a small room. All rooms (living room, dining room…) need a focal point. But in the case of the bedroom, it is even more relevant as it is a narrower space.
Light colors in a small room are ideal. Because it does not make it look so reduced and it does feel cozy.
The white presence on the walls and bedding gives light to the room. Remember not to have so many objects on the walls.
Abstract white wallpaper
 In this section, you will find abstraction with white 3d wallpaper that harmoniously fits into a modern interior.
Intersecting geometric shapes, bizarre waves, flowing smoke or fog, crystals and spirals create a memorable rhythm and dynamics.