Description
The best world map wallpaper mural is customized for your particular space.
That means you can not buy it off the shelf. It should come to the same size as the wall where you want to install it.
Luckily, there are a great number of world map wallpaper murals available for you to select from.
As well as enhancing the aesthetics of your walls or space, the world map wallpaper mural has other utility values.
Therefore, you have to consider much consideration when choosing the world map mural.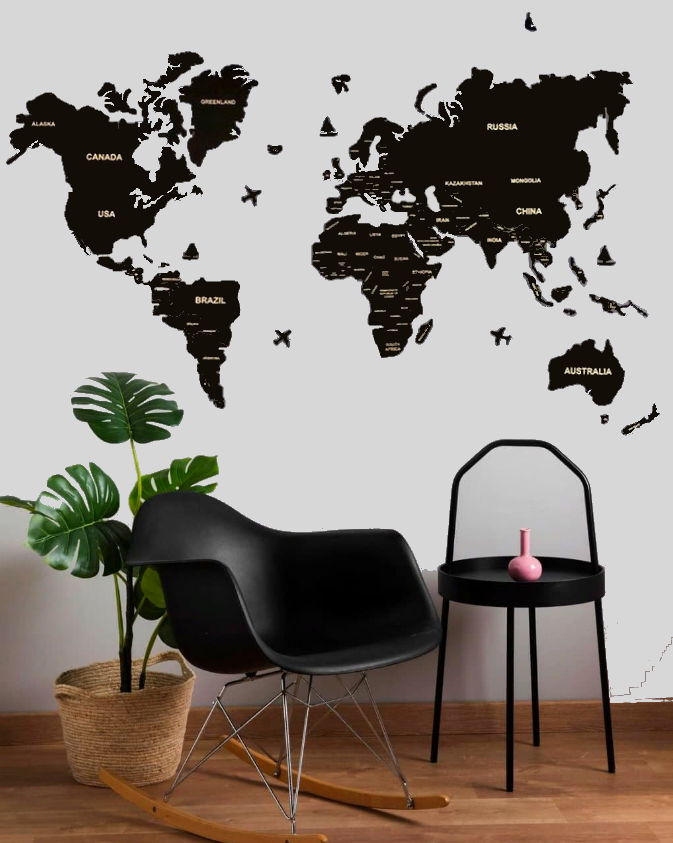 Some of the considerations are listed here below.
And they include the space where you want to hang the wallpaper as well as your preferred colors.
Other considerations are:
The collection of world map wallpaper murals
There are a seemingly endless collection of world map wallpaper mural
images
online.
That means you will find an ideal one to create an environment in your home with an exclusive design.
There is no shortage of styles and great map designs to make your home or office a unique place.
An exceptional product if you are a
travel enthusiast
, passionate about
countries
and the wanderlust philosophy runs through your body.
With world map wallpaper murals you will have a wall that you will not get bored of.
And that you will be able to look at for hours.
An ideal world map wall wallpaper mural will make you feel good at home or office.
And that is why we recommend that you take your time and look for a design that will harmonize with the color scheme of your space.
You will find incredible world map
wall art
designs so that you are in charge of decorating your home.
And decorating it to reflect your lifestyle and personality.
Be sure to interrogate online catalogs, they continue to grow so you can find your favorite.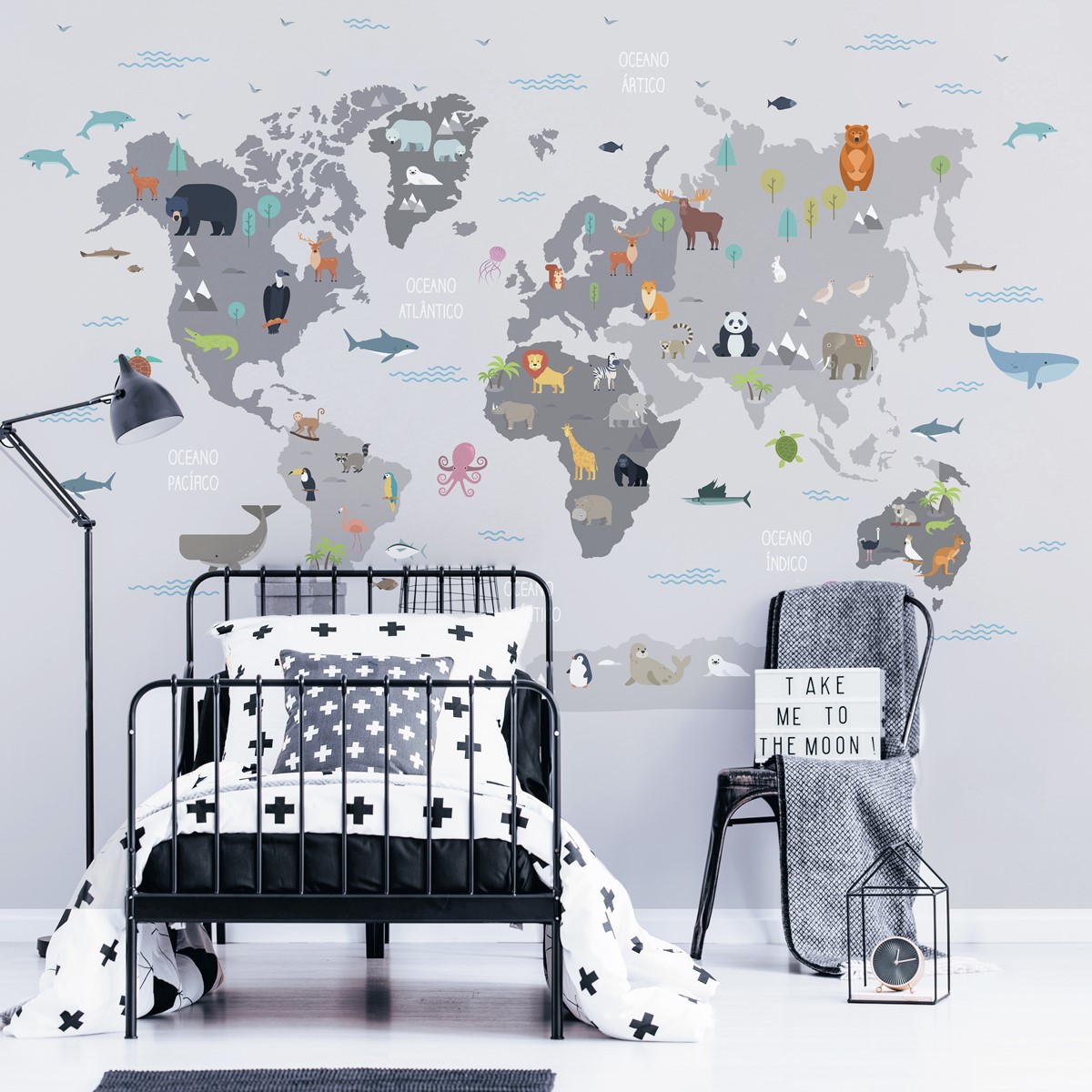 If you want to reform your home, the world map wallpaper murals allow you to change your house without the need for major renovations.
Decoration of your home will mark your lifestyle, your passions, and your way of seeing the world.
The world map murals are great.
And are one of the themes that for you to demonstrate who you are, your traveling and creative mind.
The world map murals that give color and originality
Our products are top quality, they are easily applied following the instructions that come with the raw material.
And, in addition, they are finished in matte to avoid light reflections.
Choose the measurements you need and put the one you like best on your wall.
You will not regret your choice.
Because you will love being in your own house with a design that will surprise all your visitors.
You have to create comfortable spaces where you can spend hours, days, and years without getting bored.
The world map wallpaper mural is ideal for any room. And is a versatile product, easy to adapt, and will look good in any room.
You can buy it online and it will reach you where you indicate when you make the purchase.
So you should not scroll or worry to enjoy your favorite design. Buy it now. And do not hesitate one minute more!
Decorating your house with map wallpaper murals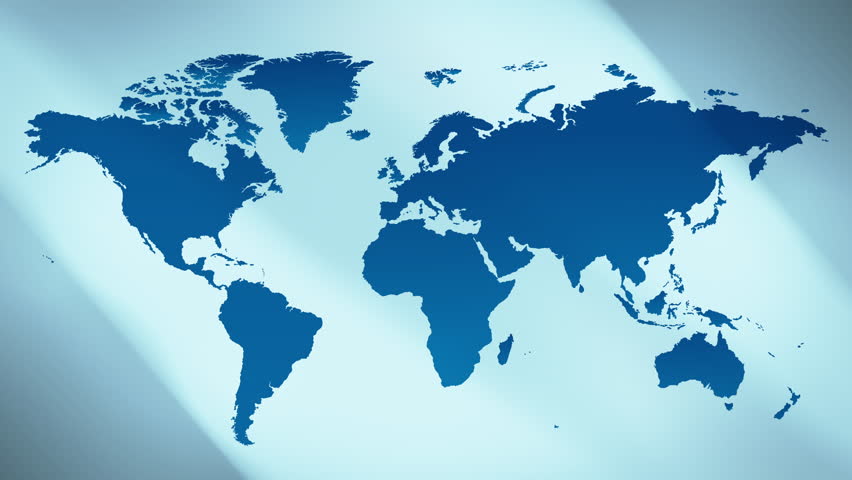 There is beauty in details. That is why Lamu Doors are considered very beautiful.
Likewise, maps are incredibly fascinating when you look at the detailed information they provide.
And whilst they are a means of communicating the wondrous world around us, they are works of art in their own right.
Whether it be an earth map or a global map, you can't deny they're interesting to look at.
The world maps have provided us with a universal medium for centuries.
Regardless of language or culture, the earliest known maps go back as far as 16,500 BC.
There are various ways you can incorporate maps into your home interior decoration.
You can use them to either add interest, for educational purposes or purely for their decorative detail. The good thing is they don't date.
And are a great conversationalist piece. Regardless of whether you're the adventurer type or just love maps' aesthetic qualities, there are lots of interesting ways to incorporate maps into your homes.
Custom size map murals
All the maps are personalized. That means you can have one to occupy the entire wall or we can put a plinth at the bottom at the height you want.
In that way, you can have it on any wall and height you want.
For instance, you can have a world map on the wall in your hallway and wall decoration. When the news tells you about China or Honduras or India or Russia, you can easily help children understand where things are happening about you.
Hopefully, make it clearer to them what the news may mean to their future.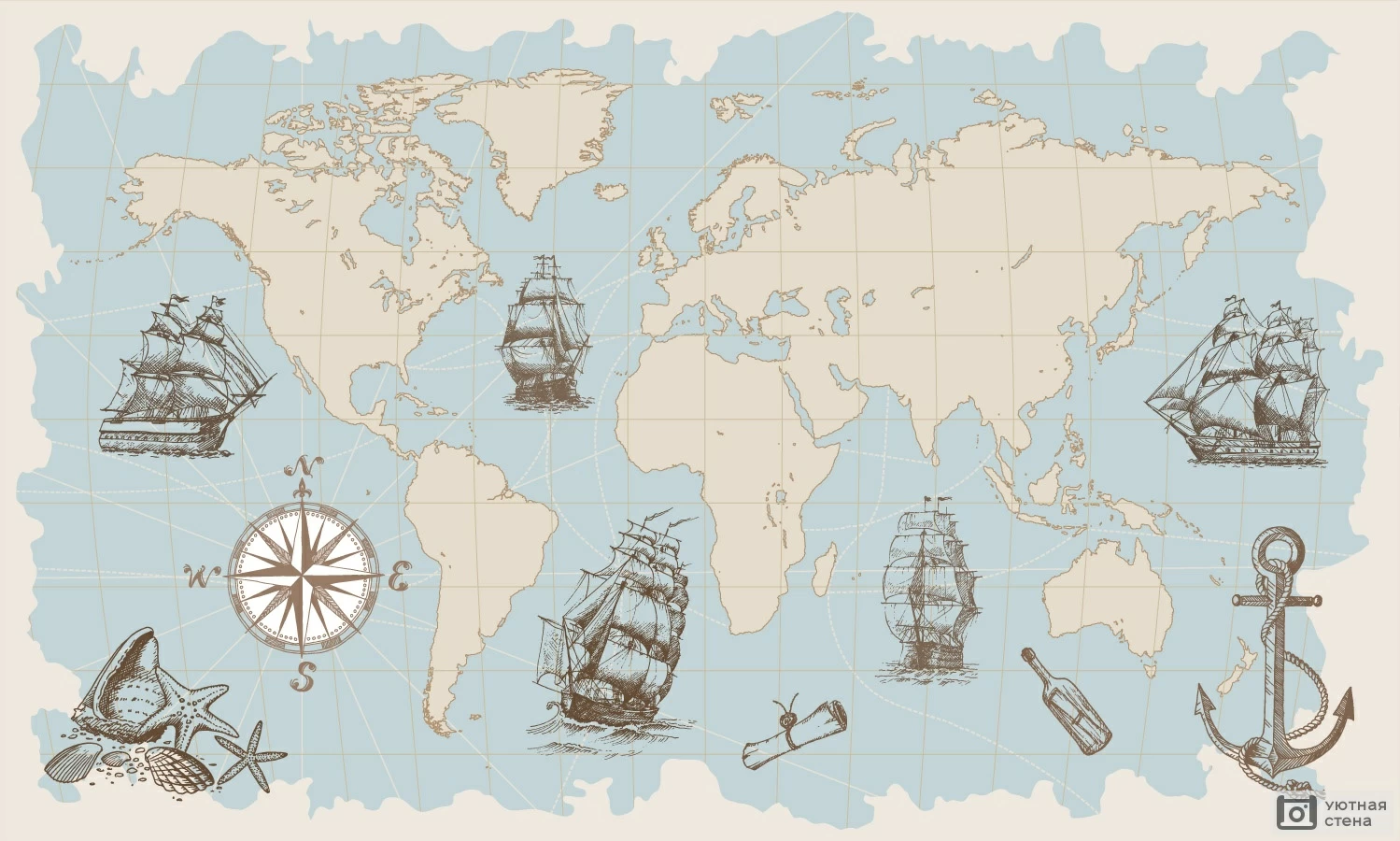 Or perhaps you are ardent travelers and a world map wallpaper is a fun way to pinpoint where you have been. Put them in your garage and laminate the surface with clear varnish to preserve their integrity.
The aesthetics of world maps is enough inspiration for you and me to install the wallpaper. But is more than being in fashion; the world's maps awaken many of us with that traveling and adventurous spark that we all carry inside of us. We would love to transmit that desire to explore and learn new things to our children. Also now there are very beautiful and original world maps perfect to decorate in the form of customized wallpaper.
Geometric Interior Decoration Murals with maps
You might think that you are limited to a unique decoration using the world map wallpaper. But there are many creative ways to use the world map in different styles of interior decoration. Have you noticed that geometric wall decoration, one of them,  is a trend?
The above beautiful polygonal shapes of the world map are testimonials. A real eye-catcher on the wall!
This type of design is simple but attractive. It is based on using geometric shapes (squares, triangles, polygons, circles, hexagons, …) for the creation of spaces or objects. A predominant geometric shape is usually used and sometimes it is combined with another secondary one. The predominant one is repeated more times and larger than the secondary one.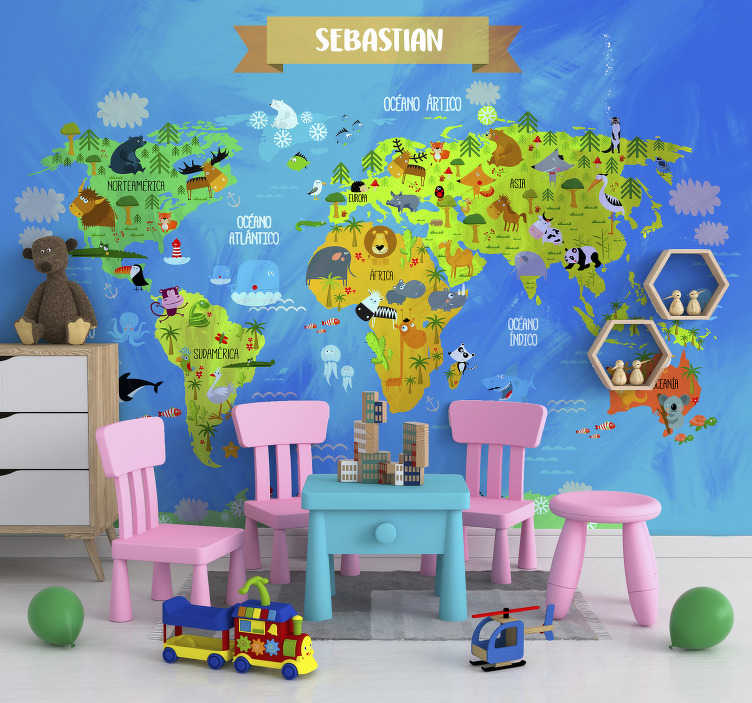 The geometric shapes are available in different sizes. This means there is always one suitable for your wall. So be sure to take a close look at this category!
Political World Map Wallpaper Mural
The map above is a political map of the world wallpaper. As you can see, it is designed to show the governmental boundaries of countries, and states. Also included is the location of major cities, major highways and byways, and significant bodies of water. The designer used decorative differing colors to help the user differentiate between nations. Moreover, it shows the location of most of the world's countries including their names where space allows.
Besides the aesthetics of the map, you will learn a lot of useful information about the world.
For instance, you will learn which are the world's largest independent nations. These are the Russian Federation, the People's Republic of China, The United States of America, Canada, and Australia.
Other types of World Maps
The world map wallpaper has much more uses than interior decoration. Part of the beauty of world map wallpaper is that it can be used in various ways, including presenting information.
According to the ICSM (Intergovernmental Committee on Surveying and Mapping), there are five different types of maps: