Description
The zebra stripes wallpaper for walls comes in three distinct patterns or designs.
Just like there are three species of zebra: GeGrevy's, mountain, and plains zebra.
And of the three the latter is by far the most commonly found all over Africa.
But for aesthetic purposes, you may want to differentiate zebra stripes, which can come in different colors, from zebra print wallpaper.
Zebra print can only be in black and white.
But not necessarily so with zebra stripes which can be in any other colors.
Even then, a zebra's stripes are not unlike the identifying fingerprints of humans.
In that, they are unique to each animal.
Therefore their stripes come in different patterns, unique to each individual. But all are black and white stripes.
Like the elegant zebra stripes wallpaper, zebras have attracted man's fascination for centuries.
Because of their intricate and distinctly patterned black and white stripes.
In some cultures, the zebra stripes are a symbol of harmony and balance.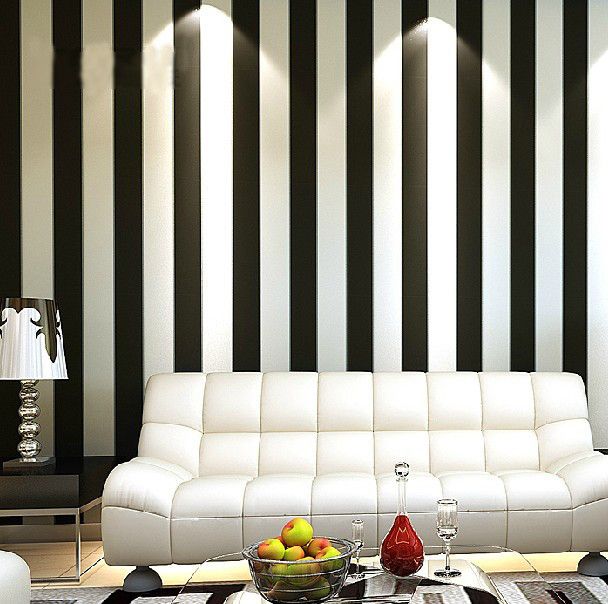 When you use the custom-made zebra skin print wallpaper you add a focal point of color that grounds, anchors, and adds a sophisticated look to your room.
Black and white zebra stripes wallpaper will help to catch the eye and sharpen any decorating scheme.
Plus these two neutral colors will not crash with any other colors in the room.
Zebra print on the wall
The black and white zebra stripes wallpaper in decoration have always been reserved for textiles and dresses.
And for the occasional isolated ornament.
But have you seen one of the walls of a room decorated in black and white stripes?
I have been seeing it in many photos and I love it.
Zebra print is a bold fashion statement defined by the striking black and white stripes of zebras' skin.
No other animals have the same striping pattern as zebras.
Hanging the zebra striped wallpaper immediately gives a modern and original touch to the walls.
And also the black and white accommodate other nuances that you can add to the decoration.
Customized nature mural wallpaper
Besides the relatively cheap ordinary zebra stripes wallpaper that comes preprinted, you can provide us with any artwork, picture, or image and we reproduce it for you on a full wall.
Ordinary zebra print wallpaper comes in the universal standard size roll, 53 centimeters by 10 meters for KS 1500 per roll supply only.
But for the customized one you need to give us the exact dimensions of your wall and we reproduce the image you provide us, in one seamless piece.
The cost is KS 2000 per square meter.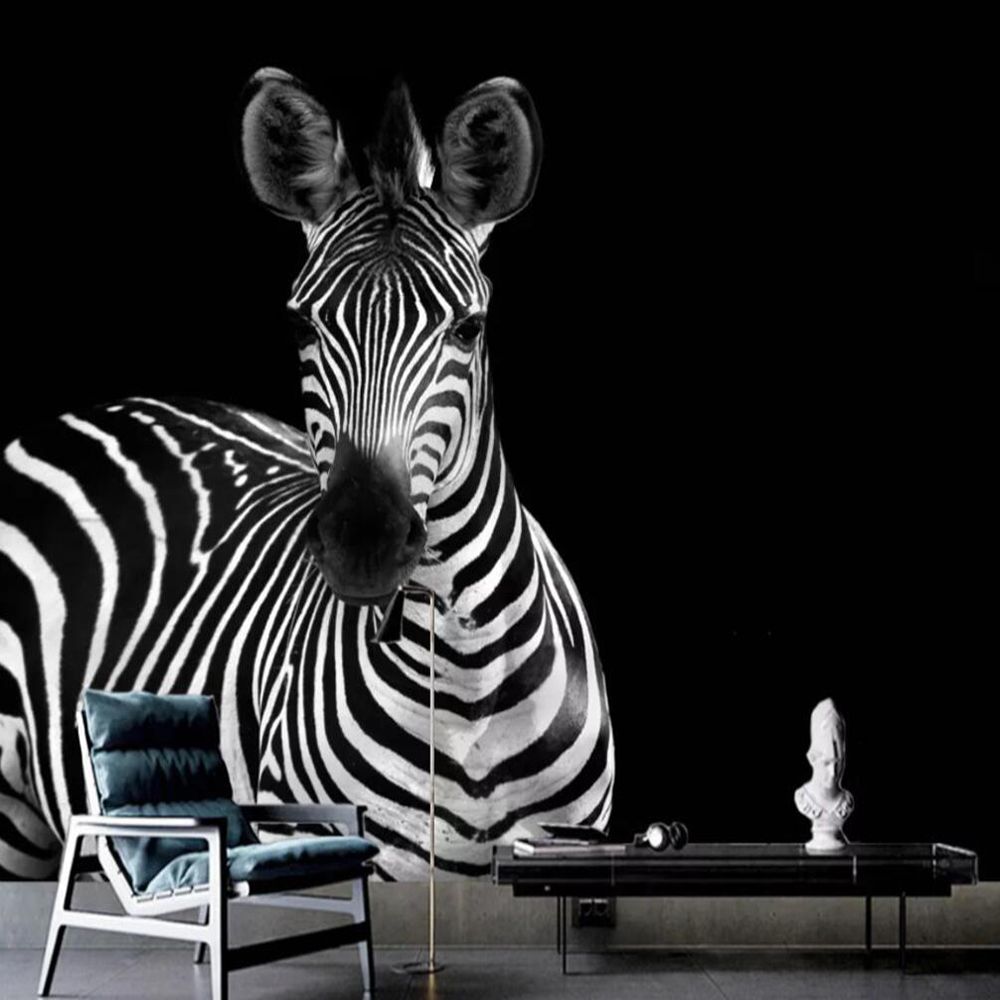 Zebras are widespread across vast areas of southern and eastern Africa.
That is where they live in their preferred habitat of treeless grasslands and Savannah woodlands.
From here you can take snapshots of incredible to watch migration and have these for your wallpaper. Or Zebras herding, grazing, or being hunted by lions.
But with a customized wallpaper mural you can get any stripes and in any color, you want. Even color zebra stripes.
Different shades of Zebra Wallpaper
Even though Zebra Stripes Wallpaper has been present in our lives for a long time, the trend has appeared very timidly with its irregular (and hypnotic) lines in black and white.
But it has now evolved adopting different shades and more daring colors, which begins to go viral on social media.
Zebra wallpaper for walls is a great option if we are looking to create a unique space that reflects our personality.
However, it is important to avoid wallpapering an entire room with this pattern, as it will seem that we are in the middle of a stampede from the savannah. 
If we don't want to give up the exotic and ethnic touch that zebra wallpaper can offer, the trick is to combine it with other colors or papers.
One idea may be you wallpaper two opposite walls with zebra prints, and the remaining two in a harmonizing shade of it a solid color.
In this way, we will avoid an overloaded space.
Zebra stripes wallpaper has invaded homes in Nairobi and all over Kenya. And this confirms their success announced throughout 2022.
While the black and white stripes version will become your best ally for classic wall décor, elegant and easily combined look, its version in shades more daring is a sure hit for a more colorful styling. 
If leopard print has long been our wild card to combine with absolutely everything, zebra wallpaper has been shown to work just as well (or better).
If you don't want to give up the exotic and ethnic touch that zebra wallpaper can offer, the trick is to combine it with other colors.
One idea may be to wallpaper two opposite walls and paint the remaining two in white or some shade of it. In this way, you will avoid an overloaded space.
Benefits of  Zebra stripes and prints wallpaper murals
Create a striking and dramatic atmosphere with black and white zebra stripes wallpaper prints
The use of black and white zebra stripes wallpaper in the decoration of a house's walls can help to create a striking and dramatic atmosphere.
But this depends on how both colors are combined or with other alternatives in the color palette.
First, the application of these simple colors can give any environment a fresher and cleaner appearance.
And at the same time give it a touch of sophistication and elegance that is obvious at first glance.
You will love it! Because black and the white color combination is one of the most versatile in wall decoration.
And, best of all, it is never go out of style – and always will be – timeless.
Personalize the Orientation of the Stripes: it matters ( a lot)
At Wallpaper Kenya, and with our custom zebra stripes wallpaper, you have the liberty to choose the orientation of the stripes.
Think carefully about what you want the orientation of the stripes to be: horizontal or vertical?
It may not sound like a big deal, but it is. Because each orientation produces a very different visual effect.
The vertical stripes are ideal to stretch and increase environments with low ceilings, which makes the stay seem higher than it is.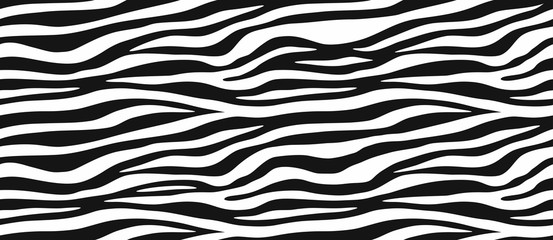 But the horizontal stripes give more visual amplitude to a space, helping it to look bigger, wider, and deeper.
Which of these sensations do you want to provoke in your case with zebra stripes?