Reclaimed pallet wood wall panel
The reclaimed pallet wood wall paneling has become popular due to the warmth and texture that add to a room infused with an atmosphere of rustic cabin.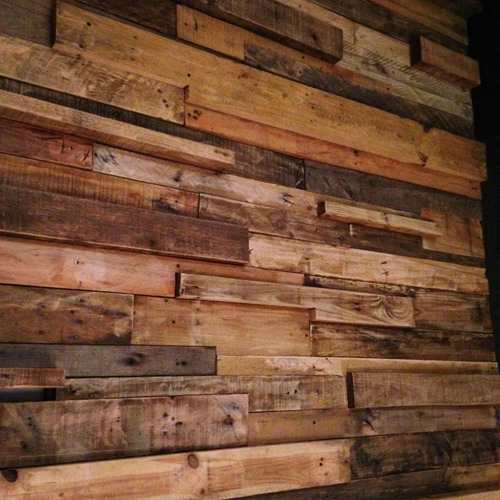 Discover here a great decoration style with reclaimed pallet wood that have been renovated and restored, painted and varnished to cover walls in a warm and original way. If you know of faux wood wallpaper, most of it imitate the real thing. And the real thing is pallet wood.
With pallets you can do many things, we have talked about this on our sister company website palletfurniture.co.ke . This is one more idea of ​​what you can do with these materials that, although they are "used" things, are now more than valued in the world of interior decoration.
As you see wall paneling with reclaimed pallet wood, is a great idea. And in fact, a very attractive idea! If you want to give your home a different natural warmth touch, why not dress a wall with pallets. If you have an undecorated wall, that has nothing on, why not style it up?
The pallets are made of wood, so you will have a wall made of this wood. In addition to keeping the room warm, it will also muffle noise.
Reclaimed pallet wood accent wall
In style right now is the reclaimed pallet wood and people who go with natural wood want to give their home a cozy country or rustic cabin look. It's definitely one of our more popular categories right now. There are some amazing pallet wood rain patterns. We see people hanging this type of designs on their powder room accent walls, master bathrooms and in their hallways.
Pallet wood look is rocking and showing no signs of slowing down! Because its a real genuine wood products. From weathered wood paneling to natural woodgrain boards you would get at a home improvement wallpaper stores.
Benefits of wooden wall paneling
We have already mentioned a couple of the benefits you will accrue from reclaimed pallet wood wall paneling. But we are going to now name many more benefits so that you can identify which room in your home is indicated for it based on insulation, brightness, etc. And of course we will not shy away from giving you the disadvantages why appropriate.
The finish will give an incredible "mountain cabin" air that you can take advantage of for a rustic style decoration
Cedar is usually the most common wood in paneling, but you can use any other
It is difficult to repair if something happens, such as if we have moisture on the wall so it is recommended not to do it near pipes
Serves as an acoustic and cold insulator. But it keeps a house warm when its cold and cool when it is hot.
Normally, unless you paint it white, wood tends to darken the room so do not cover too many walls if it is a small space
Avoid glossy varnishes or you will have the feeling of living in a "shabby" mountain cabin, opt for a natural finish
Other uses for recycling pallets
You can make a decorative reclaimed pallet wood wall panel to hang part of the wall or an entire wooden wall. The different shades of wood will give your panel a unique connotation capable of transmitting a new personality to the wall.
The origins of the pallet date back to the Second World War when the Americans used them, in the military, to transport goods to Europe.
In a short time, these wooden platforms were used for civil purposes but today pallet wood is widespread on a large scale. And this is why in recent years the need has arisen to produce pallets with an eye towards the environment. Today it is one of the hottest trends in the world of interior design light wall cladding.