The use of stone wallpaper for interior decoration is booming. And more and more people are seeking stone wallpaper. A decorative balance between avant-garde and tradition.
You too can achieve a huge decorative impact in our home and also find stone wallpaper has great versatility. You have endless possibilities depending on the finish of the stone.
We recommend you use, small stone imitations with more uniform designs to decorate small spaces.On the other hand use large stone as suitable for more open spaces. This helps you to create an environment full of warmth and comfort.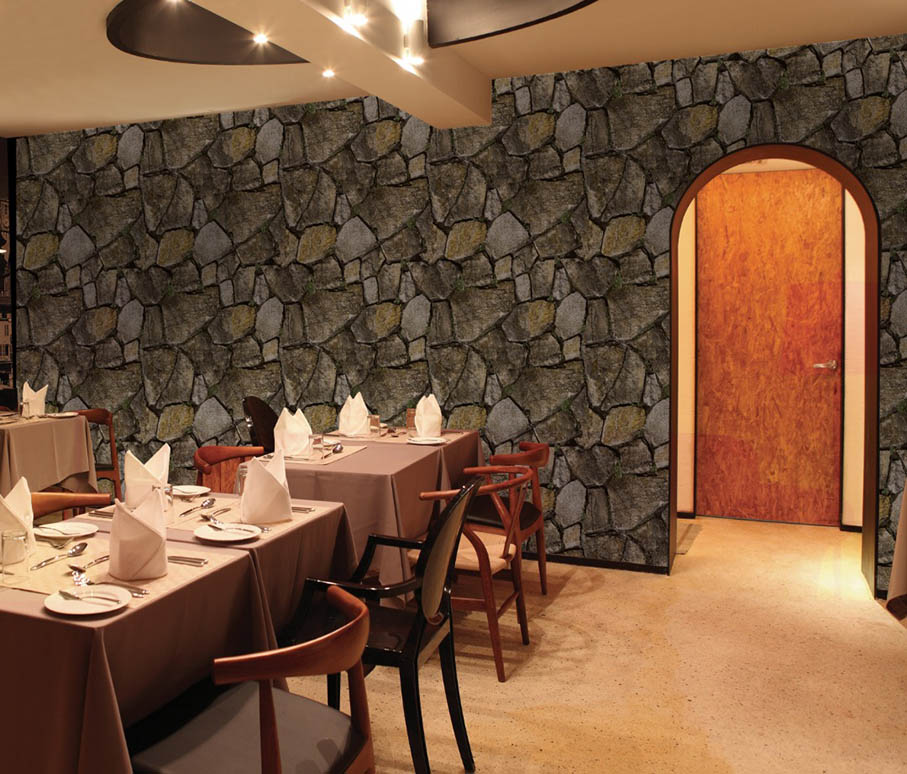 Our Stone Wallpaper mimics one of the oldest building technologies. They are simply intriguing. See the rugged look of how walls were built before the current civilization Engineered Stone and machine cut stone. These Stones, not Bricks are all of different sizes. That means the beautiful stone designs are arranged pretty thoughtfully. Cramming together pieces that naturally fit with others.
Would you rather your walls are made of plaster or stones? Use wallpaper to transform your plaster walls. They add natural elegance, shapes with authentic textures and color to your dwelling place. Visit Wallpaper Kenya to see our variety of stunning stone designs, allowing you to bring in the natural outside look.
Different Designs of Stone Wallpaper
Visit us to see many different stone designs available at Wallpaper Kenya. These wallpaper are composed of unique designs that have undergone the test of time. You are therefore assure of fine decor for your home.
Welcome for a range of wallpaper with a multitude of designs, colors and textures. Wallpapers that perfectly imitate limestone, slate or sandstone, are some of the designs that we put at your disposal. You probably know, imitation stone wallpaper is usually associated with rustic environments. What you might not know is that it is also ideal for other types of decorative styles.
For example, if you want a romantic type decoration, you can combine stone effect walls with decorative elements such as wildflowers. This combination in pastel colors or warm tones such as orange or red, creates a sophisticated and homey spaces.
While looking for your wallpaper, you probably have heard of many different kinds of stones. Or stone-like wallpaper designs. For example, Marble, Granite, quartz stone, maybe even soapstone or Onyx. Each of these is an amazingly unique design that will exceed your expectations when used in the correct setting.
The simplest way of describing many of these designs is whether they are a Natural or a Man-Made Stones. Natural Stone is any rock found in nature that is used for building or decorative purposes. Every natural stone design is a wholly unique blend of colors and textures.
The vast majority of Man-Made Stone Designs can be divided into one of two types. These are Engineered Quartz slabs or Porcelain slabs.
Castle stone design
The Castle Stone Wallpaper can be described as historic. Castle Stones were an evolution of the 'Motte and Bailey' castle design brought to England by the Normans in 1066. As Normans control over England became more secure, new stone castles began to be rebuilt in stone. The first – and most famous – stone castle was the White Tower of the Tower of London. These stone castles tended to be more defensive, more permanent, and more grand than their predecessors. Our Castle Stone Wallpaper gives a feeling of permanence. Stone buildings last for centuries. This Stone effect wallpaper makes your walls look like real stone.
Pebble stone Wallpaper
Pebbles have been used in building walls for centuries. Our Pebbles natural stone design is art and history of this.  Wallpaper Kenya extensive range of pebble stone colors makes them a great choice for a wide scope of wall veneer options, retaining walls, pool walls, feature walls, fire places and more.
White Stone Wallpaper
Have you tried white paint walls, and weren't happy with the look? Perhaps they didn't look pleasingly simple. They looked unfinished. Texture is important or your place looks sterile. White stone wallpaper is the best alternative to white paint walls. Almost everything goes with white stone walls.
Limestone
The limestone wallpaper mimics limestone, a sedimentary rock formed in oceans, rivers and lakes over millions of years. Used extensively for interior and exterior cladding, this natural material often contains animal and vegetable fossil fragments or bands of color. Here you have the main uses of this extraordinary stone in architecture and construction.
The construction industry uses limestone for walls and floors on buildings. From the ancient pyramids of Egypt to the contemporary architecture, this natural stone have a high strength, durability and resistance to corrosion. Their non-slip and heat-resistant properties are highly prized. In fact, the fine grains of limestone rock allow density so it can last for centuries. It is used in contemporary and traditional architecture for both residential and commercial applications.
You will find limestone wallpaper in shades of white, grey and cream. These imitate the wind and water grind their sharp projections, smoothed out irregularities. Moss and algae that often grow on this stone.
The use of limestone rocks is very extensive, its greatest use is in construction.
Generally what is used of the conglomerate are the clasts (limestone). The smaller ones are used as construction gravel for slabs and floors. While the largest conglomerates are used for masonry and wall construction. In addition, in some cases it is used as decoration on house facades.
Granite contact paper
This group of marble contact paper has several colors for you to choose from. You can also make the decision to choose them according to its furniture color and basic home color the similar coloring suits well.
characteristics of marble contact paper
These wall stickers are made of high quality materials. They are also eco-friendly, non-toxic, and you can easily removable them. On e great advantage is that you can install them in wet areas such as in the kitchen and bathrooms. Because they are 100% waterproof, sunscreen, and fade resistant.
The DIY series design is compact, allowing you to create unlimited creative shapes and positions. Give your room a new look and create a charming atmosphere.
Easy to install and remove, you can directly peel and stick without spending too much effort and expense, you can design your home directly.
It can be applied to any smooth surface, such as glass doors, windows, ceramic tiles in the kitchen or bathroom, glass, appliances, air conditioning and bodywork.
Ideal for countertops, tables, and floors. Use it in bathrooms, kitchens, closets, laundries, school projects, workshops, offices, craft projects
Basalt
It is also a very beautiful mineral that looks harmonious on artificial terraces and is often used to strengthen slopes. It is is a compact, hard stone, but fragile and not very resistant to fire. Generally dark or dense black in color, it is the rock that gives the greatest resistance.
Some are broken up by the action of meteorological agents.
It is a rock little used as a building stone. However, it is used on wallpaper as faux stone decoration. In realiaty, it is used in foundations, steps (under cover), paving (paving stones) and engineering works.
Masonry Stone Wallpaper
More Wallpapers in Brick category