Traditional and Modern Wallpaper Designs
Wallpaper designs are what matters most in wallpaper interior decoration.
They make wallpaper Interior decoration superior to wall painting.
In as much as interior decorating is the furnishing or adorning of a space with decorative design elements to achieve a certain aesthetics, wallpaper leads.
There is nothing in interior decoration that carries more elements of beauty in interior design than wallpaper.
The wallpaper designs in Kenya available from Wallpaper Kenya currently, given that we customize wallpaper, are inexhaustible. They include designs for home & office wallpaper. From Plain black & white, plain gold, blue, pink, cream, green, purple….to nature wallpaper.
There is both a distinction and overlap between Interior design and interior decoration. Interior designers and Interior decorators can enumerate the elements of Interior Decoration. These include color, style, texture, and patterns. It is wallpaper alone that carries all the elements of interior decoration. Period.
Whether as an eye-catcher or to accentuate your style with custom-made wallpaper: few in Kenya can avoid wallpaper this year. At Wallpaper Kenya we are presenting the 2021/22 wallpaper collections. The trend is that the new designs express your longings and their diversity leaves plenty of room for individuality and creativity. Nature, geometric, full murals, abstract– with wallpaper you create your ideal world.
Wallpaper Kenya offers you an abundance of breathtaking wallpaper designs for every taste.
Functional Wallpaper Designs
Different wallpaper designs have different functions in terms such as making a room look bigger or optical illusion depth. Take Steve Job's definition of design, "Most people make the mistake of thinking design is what it looks like. People think it's this veneer – that the designers are handed this box and told, "Make it look good!" That's not what we think design is. … Design is how it works". 
You will see that certain wallpaper designs work in certain given ways. When you wallpaper the ceiling, you make the room look bigger. Anything that draws the eye upwards makes a room feel bigger. On the other hand, darker wallpaper colors make a room seem cozy, they also absorb light instead of reflecting it. That makes the space feel smaller. opt for lighter colored wallpaper to make the room feel airy.
Stripes wallpaper on walls can easily change the mood and style of living space. But did you know that striped wallpaper application is also a powerful way to alter the perceived size of a room? Depending on the direction you choose for your wallpaper stripes on walls, you can visually manipulate a room's perceived dimensions.
Vertical stripes wallpaper look dressy – they can "raise" your ceiling a little (when used in a medium to narrow sized pattern), and add a sense of structure to a boring, boxy space. On the other hand, horizontal stripes wallpaper create a more casual look. They "push" the walls out and trick the eye by making the room appear larger, and the ceiling lower.
Special wallpaper designs for Kitchens and Bathrooms.
There are special wallpaper designs for Kitchens and Bathrooms. The term is Designed in the sense of functionality. It is good to know, steam and water are hard on wallpaper. In a kitchen, don't hang ordinary wallpaper near the sink or the stove. A bathroom that has a shower or a bathtub will age ordinary wallpaper faster than a dry room will. However, er all is not lost.
Wallpaper Kenya leads the way in providing you with Kitchen and Bathroom Wallpaper suitable for wet and humid areas. The best wallpaper for Kitchens and bathrooms is better known as Contact Paper.  And it is available at Wallpaper Kenya. You might want to wallpaper a powder room with ordinary wallpaper for a wider variety of designs and to save on cost.
Contact paper for use in kitchen and bathroom wet areas is durable and extremely hard to wear. Notably, the adhesive on contact paper is very strong and difficult to remove. Even deliberate removal is not easy. Bear in mind that the adhesive is also water-resistant. Therefore standard wallpaper removal techniques and products do not work. However, there is a technique for the removal of contact paper. Use a hairdryer to heat the contact paper to soften the adhesive.
Wallpaper designed to counter mold and mildew
Issues concerning mold and mildew are gaining increased attention. From both residential and commercial property owners as well as the public at large. Although wallcovering is often cited in connection with mold and mildew growth, it must be understood that wallcovering does not cause mold and mildew.
In virtually all cases, the mold and mildew growth is due to excessive moisture. To prevent or eliminate mold and mildew you must identify and eliminate the source of the excessive moisture. But there are unusual cases where you can't eliminate or sufficiently reduce moisture or moisture infiltration from the wall cavity. In this case use of wallcoverings with higher permeability ratings should be considered. For example, we our silk fabric custom-made wallpaper murals. 
Wallcovering discoloration or wall deterioration caused by mold is an indication of a moisture problem. The WA recommends that the source of the water or excessive moisture should be found immediately and eliminated. 
Bathroom wallpaper designs
The new wallpaper designs have conquered new rooms in which it was previously unthinkable for you to place this beautiful element. In the bathrooms, you commonly see tiles and tiling. But there are many more options you have! The bathroom becomes an ideal canvas to make it more welcoming and with a very personal style. 
When selecting the best wallpaper to decorate your bathroom, keep in mind that not just any will work. Being a room with a high humidity rate, you should choose it with waterproof properties. 
Popular & Trending Designs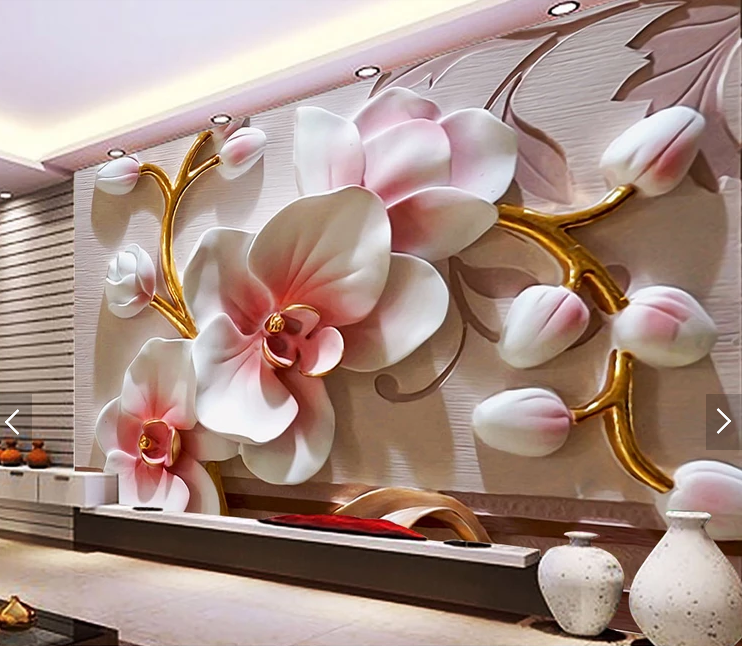 Brick Wallpaper designs and Damask Wallpaper are timeless and time favorites.  And according to Pinterest's 2019 trends report, Bold wallpaper has officially joined the ranks of other 2019 wallpaper trends, with people searching for "bold print wallpaper" 401 percent more frequently than they have in years past. Our Wallpaper Kenya Bold Wallpaper designs comprise too of Floral Wallpaper—both abstract and literal. Add geometric prints to the list.
Then you have the flowers. These are some of the most preferred designs. Probably because of their wide variety of formats, designs, and colors. And because these allow them to integrate both classical and modern or rustic decorations.
Flower prints have been flourishing everywhere and will continue well into 2021. Look around and see large-scale flowers, and vintage botanicals are becoming increasingly popular. And you will find them in a variety of interior decoration styles, from classic to contemporary.
3d Brick wallpaper designs are an all-time best-seller
In recent years it has become very fashionable to use natural wallpaper designs. To avoid complicated operations and large expenses, you can replace the brick wall with original decorations that imitate it. At Wallpaper Kenya we have prepared a selected stone wallpaper catalog to which you can have a brick wall that will look realistic.
Among the designs, we offer you will find decorations in various earth colors and tones. The brick effect wallpaper of intense colors will allow you to revive the living room, and the dull colors give a refined character to your rooms.
The brick effect wallpaper is easy to install on the wall. Just spread the adhesive on the wall and then attach the wallpaper. After the application, you will have the possibility to change the position of the wall effect wallpaper.
Trending 3d Wallpaper Murals
Although a little is more expensive, the decorative mural wallpaper designs, have returned as a trend with great force. And it is not surprising. Because it is the most versatile and the in-exhaustive variety makes it a very interesting element for interior decoration.
And you will find it an easy and fast way to completely transform the walls of your home. Since it can transform the atmosphere of a room, you will completely change the style of your rooms.
After years of mastering the white color and minimalism in interior decoration, 3d mural wallpaper returns to the forefront. Becoming a must-have to bring life and personality to any room for those who can afford to pay a little more.
They do not cost much money though. For Kenya Shillings 2000 per square meter, you get to choose the precise images you want on your walls. And for that reason, 3d mural wallpaper is experiencing a boom in interior decoration.
You can use it in virtually any room. Even in spaces such as hallways, kitchens, and bathrooms.
The feeling of 3D depth is enchanting and very contemporary. By playing with textures and optical illusion, you can bring even more aesthetic sense to the walls of your living room, bedroom, or any other relaxed environment in your home.
3D is part of various ornamental arts, including wallpapers. Of course, with many enthralling patterns that create incredible effects for the viewer. Colored or black and white, the three-dimensional wallpapers are ideal for those who love art and have an up-to-date spirit
Personalized Wallpaper Designs for Any Room
I guess, in Nairobi, it is only at Wallpaper Kenya you can get all and any wallpaper design you can think of. Because at Wallpaper Kenya we do customize wallpaper to your theme and taste.
Textile wallpaper
This is a superior quality product that creates a feeling of well-being in any space. It is made of silk, providing a unique effect in the decoration.
Silk fabric wallpapers are breathable, stain-resistant, and provide very good insulation quality. Of course, at KS 2000 per square meter, they are a bit expensive but you are professional to install it.
They are very easy to install and you can do it yourself. If you are in Nairobi, can do it for you for free. 
And here are a few of the themes and styles:
2021 wallpaper trends
For this year, the designers have recommended some solutions that will allow you to establish, create and provide the comfort you want in the interior of your home. 
So we will indicate some of the patterns that will be a trend in 2021. The tropical print will continue to attract attention. L palm trees and botanical patterns are again present. Also, the bigger the design or pattern, the better. There will also be the metallic nobles. This type of wallpaper pattern with a fresh tint is a fashionable basis for a stylish and modern interior.
Purple Wallpaper 
Enhance your interior with our different shades of
purple
wallpapers. Thanks to its tranquilizing virtues, purple will add a calm and reassuring side to your wall decoration. The purple wallpaper designs are easily combined with red and blue components. 
Purple is also a hue with a strong presence that undoubtedly needs to be used sparingly. Paired with softer colors such as
cream
and 
white
 or even 
light pink
, you can install purple wallpaper on a single wall to add character to a bedroom or living room.
Depth, perspective, and good taste with geometric wallpaper motifs 
Just imagine the endless possibilities we have with geometric wallpaper, a few little patterns that can reproduce endlessly?
The beauty of geometric shapes brings personality and style to every environment in your home!
There are countless possibilities for geometric prints: checkered, triangular, abstract, 3D, and many others. Check out our possibilities:
Not every print with geometry is only plaid or triangular: abstract wallpapers use geometric shapes with small distortions, bright colors, and textures.
Furthermore, here you will find abstract models not only in form but also in color. If you like bold and delicate wallpapers in the right measure, abstracts are, for sure, the ideal models for you!
Do you like the classic style of past decades? The vintage papers mix all the originality of the geometric style with the vintage influence that is so successful! Do you know what is better? They are super modern and nothing old – that is, style and value in a single model.
Here you will find options in all colors and all shapes – with the guarantee of quality and exclusivity that only we can offer.
Silver Wallpaper
The silver wall decoration gives free rein to your imagination and creativity. You will find many designs that you will match with the decorative option you have adopted in your room.
And we can also customize silver wallpaper. 
This style of rustic brown wallpapers celebrates the art of repurposing. And will find different designs in brick wallpaper, reclaimed wood, and antiques that are can commonly be found in rustic homes. ItsIt'scharming style that favors color palettes from the natural world, and will bring warmth to yoyourome.
Art décor wallpaper motifs
Similarly, wallpapers with classic and art decor motifs will continue to favor the interior of the home. 
An expressive pattern, dark tones, a little golden shine, will certainly give the space elegance.
Outer space wallpaper murals