Description
Use plain black wallpaper to make a small space seem more regal. And a matte black wallpaper to make a larger space more dramatic.
Plain black wallpaper is mostly used in photography studios. Mainly because it is suitable to make a dark room completely dark and not diffuse light. But in interior decoration every room can use a touch of black. Black wallpaper is a bold and versatile choice for a room's color scheme. From moody black walls to chic modern decor, the possibilities for a black room are endless.
A  matte finish softens the often harsh appearance of plain black and lends a unique feel to rooms both large and small. Most homeowners are amazed at the transformation a room takes on after matte black wallpaper. It's really a dreamy soft look.
Help soften the look and feel by using matte black to cover one feature wall in your living room. However make sure the room has ample lighting and add balance by using a soft white or cream trim.
If there's one constant thing in the interior design world, it's change. Every few years, a new decor trend, and finishes, emerges. The hot finish of today is matte black wallpaper! Black is currently a prominent trend in interior decoration. But matte black finish is particularly popular in kitchen and bathroom decor. Ours is contact paper suitable for these areas too.
Using plain matter black you can add a focal point that grounds and anchors others. You can also add a sophisticated, and elegant look to any room. Look no further than black wallpaper for a hue that can elevate your space in an instant.
Combination of black and white for indoor wallpaper
The combination of black and white is an immortal trend in indoor interior decoration. However, wallpapers on a black and white background on the wall require the correct balance of colors in the apartment. Take into account the style you want to use.
Use Black and white wallpaper on the wall as a simple, versatile and timeless designs with a classy note. Black and white striped wallpaper with interesting pattern or floral motifs is always in fashion to decorate the walls. Such a decoration fits into any interior and in every style.
With the contrasting classics you can decorate the walls in every room of the house:
Intrigue and drama in black wallpaper
If you want to introduce intrigue and drama into your, there's no better wallpaper than black. Though you may have shied away from black in the past, used correctly it can look incredibly modern and chic. But if in doubt and not ready for full black walls, you can experiment on smaller areas. For instance black cabinetry contact paper, interior doors, and accents to add dimension to your space.
Adventurous interior decorators can find endless inspiration in black wallpaper. It is a choice that comes with more creative constrictions than lighter or more conventional wallpaper. But making a dark interior feel comfortable and requires careful attention to lighting, composition, and contrast.
Other areas to use black contact paper
Smooth on one side and sticky on the other, contact paper has been long loved for practical purposes like lining drawers and shelves. But the material's more recent surge in popularity has brought about a pretty incredible range of colors and patterns offered. Like very realistic black faux-granite veining.
There are many ways and areas to use black contact paper, not just on walls:
 To Mask a Counter-top
Stick a slick sheet of black faux-granite contact paper right over top and all over the edges of your counter top. It is 100% waterproof, durable and scratch,  resistant.
Beautify Stair Risers
If your stairs are just stairs and you're not in a position to get a custom runner, use contact paper on the risers. Patterns would be nice here though.
Stick It to the Back of a Bookshelf
A basic black bookshelf can be jazzed up using contact paper on the backs of every shelf!
Cover Up old Cabinet Fronts
Old cabinets can be covered economically using contact paper all over them.
Customized Gothic Black Wallpaper
A major motif in a Gothic interior is color. Now, medieval churches were made mainly of stone, so color was not a major issue. People of the Victorian era, however, liked color and found ways to use it in this style.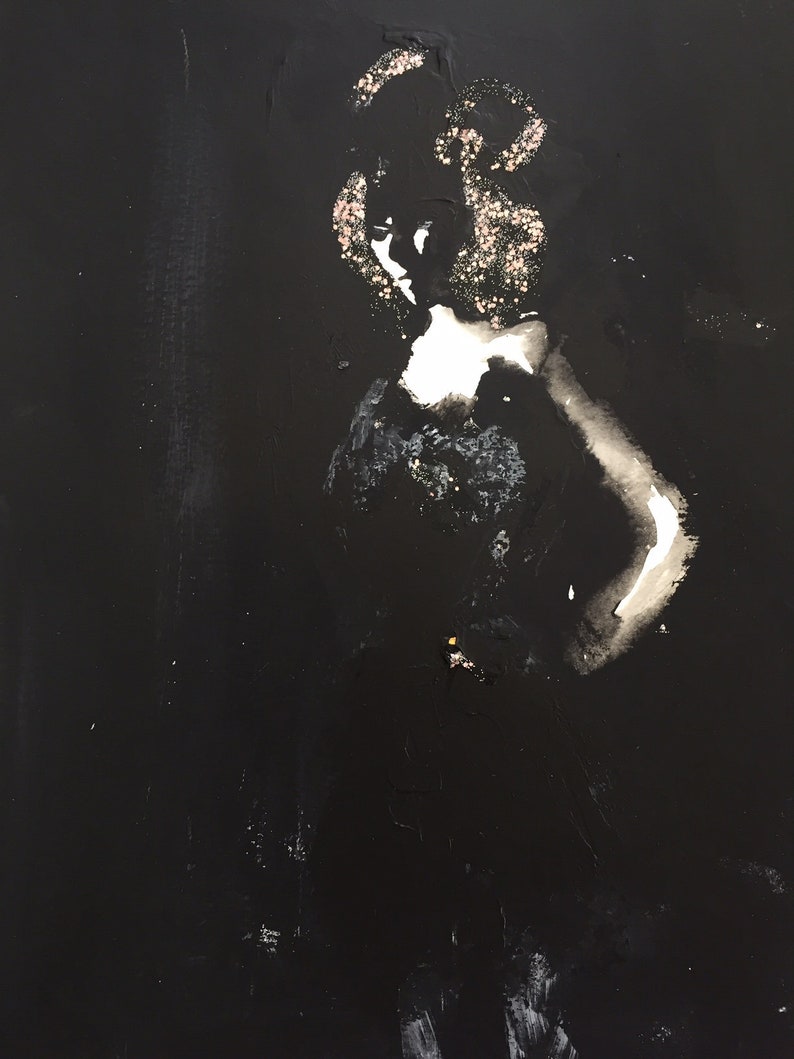 Look for dark but vibrant colors, including black wallpaper, browns, greens, and deep reds that dominate the color scheme of the room. These wallpapers tend to be darker, encouraging the drama and seriousness of the room. But also rich and deep, giving it that sense of grandeur. Some of these can come through the use of customized wallpaper, which also help to create that cathedral-like atmosphere.
You can buy this image and others for your Gothic black wallpaper customization from Etsy. Send it to us through our email wal[email protected] and we will blow it up for your full wall.
The limitless online available wallpaper patterns give limitless possibilities in wall decoration. Thinking of a white wallpaper, delicately decorated with black accents? Or maybe you're more inclined towards black with light white accents? No matter which option you choose, it will be a great solution. Black and white is a duo that offers many possibilities to decorate a living room. This is one of the few trends that is cleverly used in almost any style of interior design. The wallpapers in black and white design are elegant, modern and at the same time timeless. They will create a unique arrangement in the apartment.