Description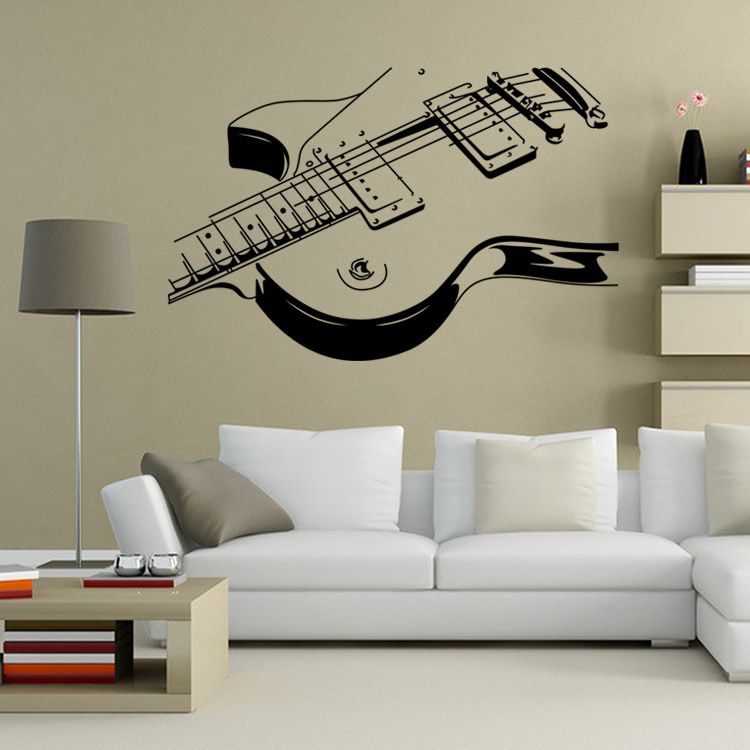 Ideas for Music Wall Murals Wallpaper are as endless as there are genres and subgenres of music.
Because all of us have different tastes in music. That's why it's not easy designing a music wallpaper for everyone's taste.
There have been many studies attempting to figure out just how music affects our human mind.
Why do different people like different kinds of music?
What parts of the brain are activated and if the said parts are affected more or less by different kinds of music?
Fortunately, online sites such as Bigstock and Shutterstock have gathered huge collections of music mural wallpaper for all music lovers.
Also, Musical notes are an art of work suitable for mural wallpaper in their own right.
Different house music murals wallpaper
Your house and work spaces are the physical embodiment of all your hopes, dreams, and emotions.
You spend time in these spaces creating, working, and living life to the fullest!
It is no surprise then, that you as a music lover wish for the most comfortable and beautiful-looking house music wall mural wallpaper.
Sites such as Big-stock have some excellent music wall murals and wallpaper images for you to shop from.
Visit the site and use the keywords below for your particular genre and subgenre of music.
Here below are the different genres of music for you to choose from:
Rock music wall murals wallpaper
No matter what music one listens to, there seems to be a common consensus as to why we listen.
It seems that genres of music that have a fast-paced, upbeat, and catchy rhythm (like pop, rap, etc.) are attractive to those who do sports.
Or at least, those who are looking to get pumped up. Rock also stands to achieve this goal.
Most of us agree that music just makes us happy.
We can 'get into a mood' based on the style of the song we're listening to. Don't you agree?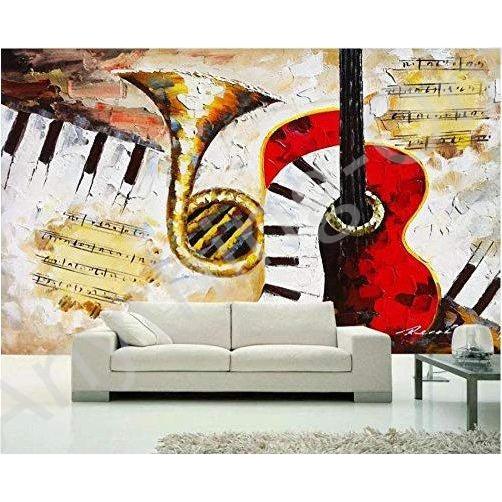 Blues music wall murals wallpaper
Jazz wall murals wallpaper
Some people love jazz and adore jazz music wall murals wallpaper. 
But are some cannot bear to listen to that music? Asking someone if they like jazz is like asking them if they believe in God.
You must clarify what you mean when you say "God" or when you say "jazz".
Jazz is a challenge to our conventions, to symmetry, to everything that is fixed, to emotions and feelings.
Because jazz music transmutes you, and breaks you down into a thousand pieces. And recomposes you.
Jazz lovers have long known: that it has a powerful effect on the brain. Both on the listener as in who – of course – touches it. Listening to jazz sharpens concentration, increases creativity, and reinforces traits such as courage, leadership, innovation, and adaptation to new situations.
Reggae is an English term for a musical style that originated in Jamaica during the 1960s.
It is a genre that is derived from rocksteady and ska and whose main characteristic is the constant repetition of its rhythm.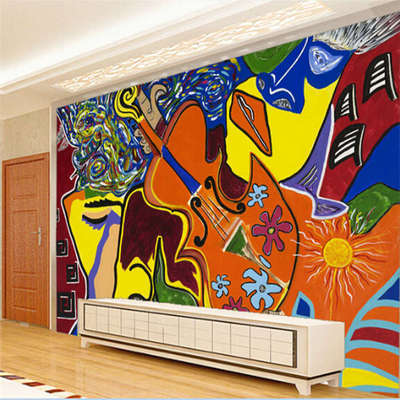 One of the pioneering reggae groups was The Wailers, founded in 1963 and with famous members such as Peter Tosh and Bob Marley. The latter is the greatest icon of reggae and Jamaican music in general.
Died in 1981, Marley immortalized reggae songs like "No Woman, no Cry", "Lively Up Yourself" and "Three Little Birds", among many others.
Among the peculiarities of reggae, is its strong link with issues that have nothing to do with music stands out.
Reggae is often associated with the Rastafarian trend, whose followers believe that Haile Selassie I (the last emperor of the Ethiopian nation) is the reincarnation of God (whom they know as Jah).
According to this movement, the people of blacks and their descendants will be guided to the promised land called Mount Zion.
Country music murals wallpaper: Country music is full of songs for whatever mood you're in or want to create. You will know that if you want to party, country music has you covered.
Going through a breakup? Country music is here to help. All of us have the go-to songs that we listen to when we're feeling a certain way. you never forget.
Heavy Metal
Electronic
Pop music wall murals wallpaper
You can create any vibe you want in your room with a custom-made pop music mural wallpaper.
Whether you're the next Michael Jackson or Elvis Presley, there is a music wall mural wallpaper to suit your genre.
From vintage instrument wallpaper to quirky illustrations, this endless range of musical wall mural wallpaper is sure to have a design to suit your space.
Select your music mural image from a selection of iconic images of musicians to abstract jazz band masterpieces and create your concert-worthy stadium in the comfort of your home.
Suitable for any room, let a custom-made music wall mural wallpaper be the soundtrack to your home.
Country Music Wall Murals Wallpaper
Some of the most loved Country Music Wall Murals and Wallpaper depict Kenny Rogers.
As you may know, country music refers to that style that was officially born in the 1920s, where string instruments (and some harmonica) predominated.
And where the lyrics speak about the everyday life of life. Some of this music, still very popular today include The Gambler, by Ken Rogers.
Country music has its roots in the Blues, the Gospel, and the Folk of the immigrants; and it has been a pattern from which other genres such as Jazz or Rock have drawn.
A style that also encompasses different sub-genres that have been becoming known as the musical and technological evolution itself has helped us to disaggregate everything that concerns this new American cultural branch rooted since its inception in the central and southern areas of the country.
Folk
Classical wall mural wallpaper
Let's get acquainted with the life of classical composers through music wall murals and wallpaper. But you can go ahead and find out how the music of Bach, Mozart, and Handel was perceived by contemporaries.
Also, learn to distinguish between eras and genres using the example of the works of the composers mentioned here and understand what their symphonies, operas, and concerts can tell us today.
When researching classical music wallpaper murals I learned something very interesting about classical music. And that is The Mozart Effect.
The Mozart effect refers to the theory that listening to the music of Mozart may temporarily boost scores on one portion of an IQ test.
Popular science versions of the theory claim that "listening to Mozart makes you smarter" or that early childhood exposure to classical music has a beneficial effect on mental development.
The original study from 1993 reported a short-term (lasting about 15 minutes) improvement in the performance of certain kinds of mental tasks known as spatial reasoning, such as folding paper and solving mazes.
The results were highly exaggerated by the popular press and became "Mozart makes you smart", which was said to apply to children in particular (the original study included 36 college students).
These claims led to a commercial fad with Mozart CDs being sold to parents, the U.S. state of Georgia even proposed a budget to provide every child with a CD of classical music.
Opera music wall murals
Music has been part of human lives for the longest time. Whatever generation you belong to, there is always a particular type of music for you.
There are numerous online resources for you to get the right Music – a themed mural that will make your walls look fantastic.
Peruse shutter-stock and other online resources for these wonderful musical mural designs.
Musical Notes Murals Wallpaper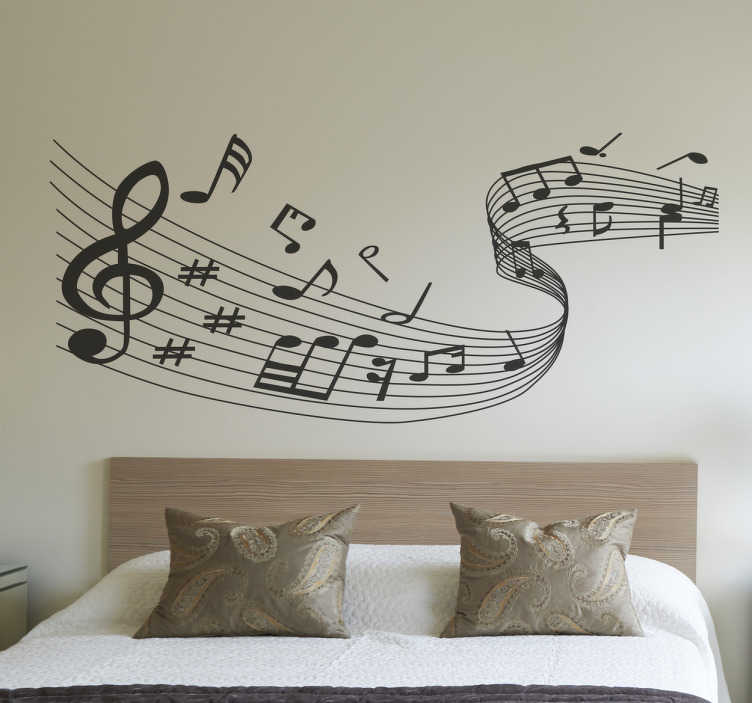 In the days before audio recordings, musical notes were written out as a means of preserving and communicating music.
To do this, a system of musical notation and symbols was developed. That gave musicians the information they needed to play music as the composer intended it.
Writing music wall murals notes and symbols (sometimes called "engraving" or "copying") is an art. And like any art, it's important to get the sketch down first. You can do it yourself if you are a musician. Always use a pencil when composing for a Mural.
Because you'll find yourself editing and changing things constantly. I recommend you use a light pencil and a kneaded eraser.
So that you can keep the music clean. This is what we will use to blow up a full wall mural wallpaper.
Who needs Music Wall Murals Wallpaper the most?
Music schools and studios use music wall murals wallpaper to create a stimulating and inspiring learning environment for their students.
The murals can feature images of famous musicians, musical instruments, or musical notation.
They can also be used to create a sense of community and belonging among the students.
Music venues
Other consumers of music wallpaper include Music venues to promote their events and attract customers.
The murals can feature images of upcoming performers, album covers, or lyrics from popular songs.
They can also be used to create a unique and memorable atmosphere for the venue.
For Music lovers
Music lovers use music wall murals to express their love of music and to add a touch of personality to their homes or businesses.
The murals can feature images of their favorite artists, songs, or instruments.
They can also be used to create a calming and relaxing space where they can enjoy their favorite music.
Businesses
Music wallpaper can be used to promote a business's products or services.
Businesses also use music wallpaper to create a more inviting and welcoming atmosphere for their customers.
The murals can feature images of musical instruments, sheet music, or musical notation.
They can also be used to promote the business's products or services.
Cities Music networks
Municipalities use music wall murals to add beauty and character to their communities. The murals can feature images of local musicians, landmarks, or events.
They can also be used to promote tourism or to celebrate the city's culture.
The benefits of music wall murals for these consumers
Inspiring creativity and imagination
Music wall murals can inspire creativity and imagination in people of all ages. They can spark new ideas and encourage people to explore their musical talents.
Promoting a sense of community
Music wall murals can promote a sense of community by bringing people together. They can be a conversation starter and a way to connect with others who share a love of music.
Creating a stimulating and inviting environment
Music wall murals can create a stimulating and inviting environment for learning, work, or play.
They can help to improve mood and productivity, and they can make a space feel more welcoming and inviting.
Adding value to the property
Music wall murals can add value to the property. They can make a space feel more unique and distinctive, and they can attract potential buyers or tenants.
Overall, music wall murals are a versatile and visually appealing way to add beauty, character, and inspiration to any space.
They are enjoyed by people of all ages and backgrounds, and they offer a variety of benefits for businesses, municipalities, and music lovers alike.